Pantheon's Stairway
Or How to Become a Sex God 
The next step in making the Haremverse and Comixverse even more exciting is by giving you another adventure and opportunity to win amazing rewards and exclusive girls!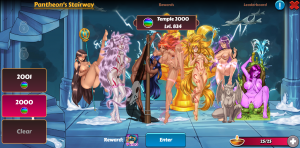 🔥 How to access Pantheon's Stairway? 🔥
To unlock the Stairway, you need to have reached Level 15!

You can access it through the new menu in Town

Sex God Path.

The

Sex God Path

includes Champions and the Pantheon's Stairway.
🏆 What is Pantheon's Stairway? 🏆
It is a place to perform and is structured in Floors.

Each Floor has a team of 7 girls you have to perform against.

If you can't beat the Floor, you remain on it until you win.

If you win, you progress to the next floor and win a reward.

When you beat the last Floor, you've beaten the Stairway and you will have to wait for the release of the next Floor.
There will be a new type of energy used in the Pantheon's Stairway: Worship.

Worship works similarly to the Kisses in the Seasons

You must use 1 Worship to start a battle.
You can store up to 10 Worship (for players without a monthly card).
Every couple of hours, 1 Worship is generated (you get 10 Worship for the 24 hours of a day)

There is a Leaderboard displaying the top 1000 players (the ones who have reached the highest floors).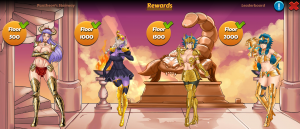 💝 Rewards 💝
The higher floors you reach, the bigger the rewards you will get. There will be a reward for every new floor you get to. The rewards are Gifts, Books, different Orbs, backgrounds, and, of course, girls. ⭐ Exclusive hot 5-grade girls! ⭐
Lustful Pantheon-exclusive girls await you every 500 floors! Check out the girls in the "Rewards" section to see what it'll take for you to get them to join your Harem!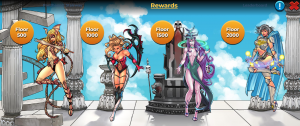 *******************************************************
Update
Improvement: Pantheon Perform x10

The new Pantheon "Perform! X10" option will do 10 consecutive floor performances.
How does it work?
If you are defeated after a performance, you'll stay on the floor where you were defeated and have the option to perform again.
If you beat the floor, you'll continue to the next floor.
Note: When using this option, in case you win or lose, the 10 Worships will be consumed.

The option is free for players with a Platinum or Diamond Monthly Card.
*******************************************************
Try out the feature and let us know what you think in the forum and discord!
Good luck on your way to becoming the Sex God that all the girls know you are, hero! 💪😈💪