Hey stallion,
Participating in events can provide all sorts of rewards such as Experience, Gold, Gear, new Stars, etc. If you are wondering how events work and what are the different types of events, this article is just for you! 
Classic event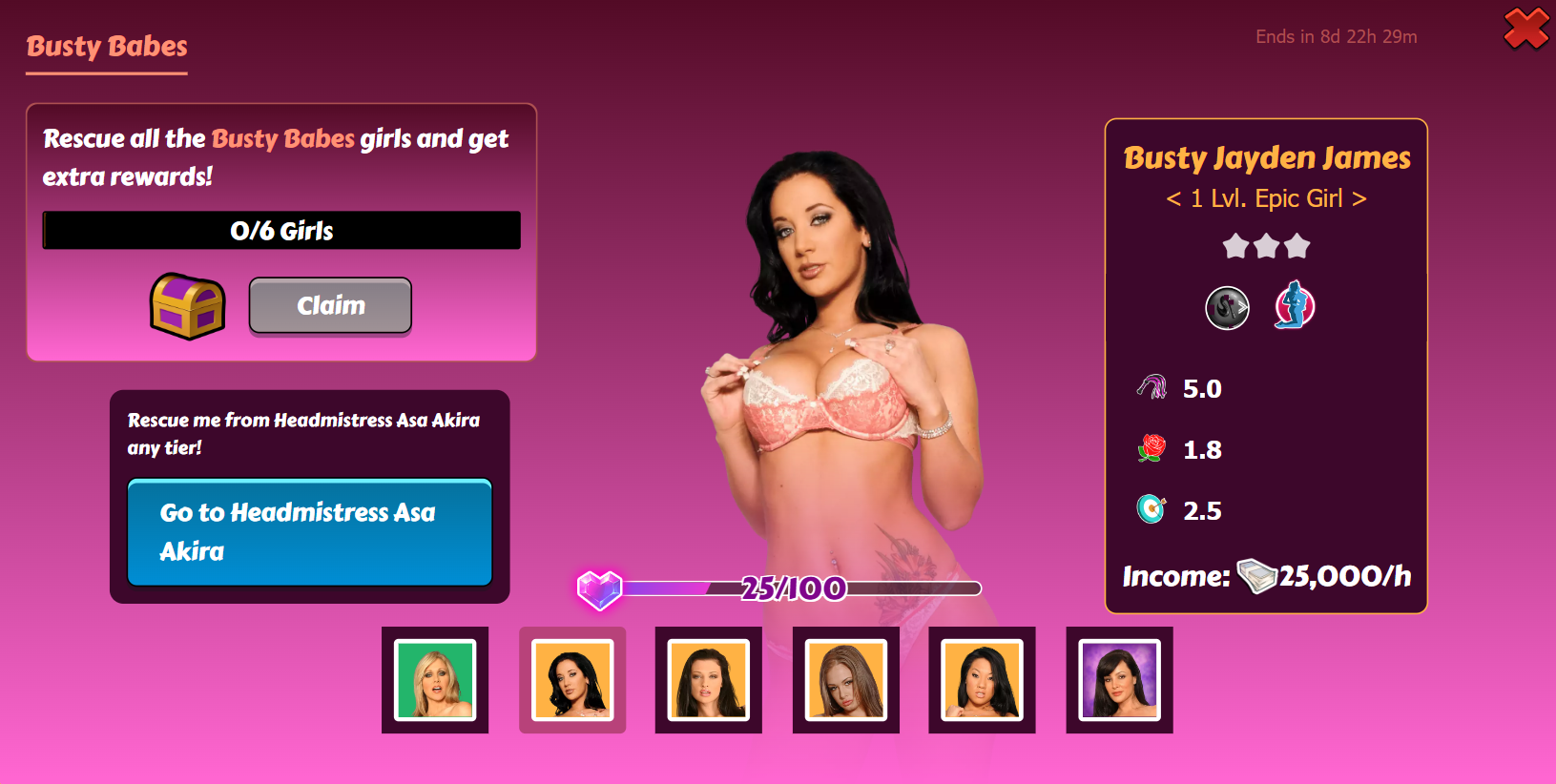 Classic events take place at the beginning of each month, classic events are among the longest events in the game. New Stars appear during this 9-day long event!
Each classic event has a different theme and adds 6 new Stars to the world.
Some of them can be obtained from the Epic or Event Night-Club and others can also be obtained by fighting a competitor or a champion. One of them is only obtainable by completing all of the Event Daily Missions
Event Daily Missions are marked with a different color (blue) and tell the story behind the Event. There are 9 daily missions and completing all of them will reward you with an exclusive event Star.
If you manage to rescue all of the event Stars, you will then unlock a special reward chest containing awesome rewards!
Legendary Contest
You will have to show your power and extraordinary sexual abilities if you want to seduce a new Legendary Star and win her heart! Now, here is all you have to know about the Legendary Contests!
What are the Legendary Contests?
The Legendary Contests are a new kind of event which lasts 4 days. Every 24 hours, a new Contest appears. During these contests, you will have to achieve goals related to PvP, XP, Night-Club, Donations, Competitors, Energy…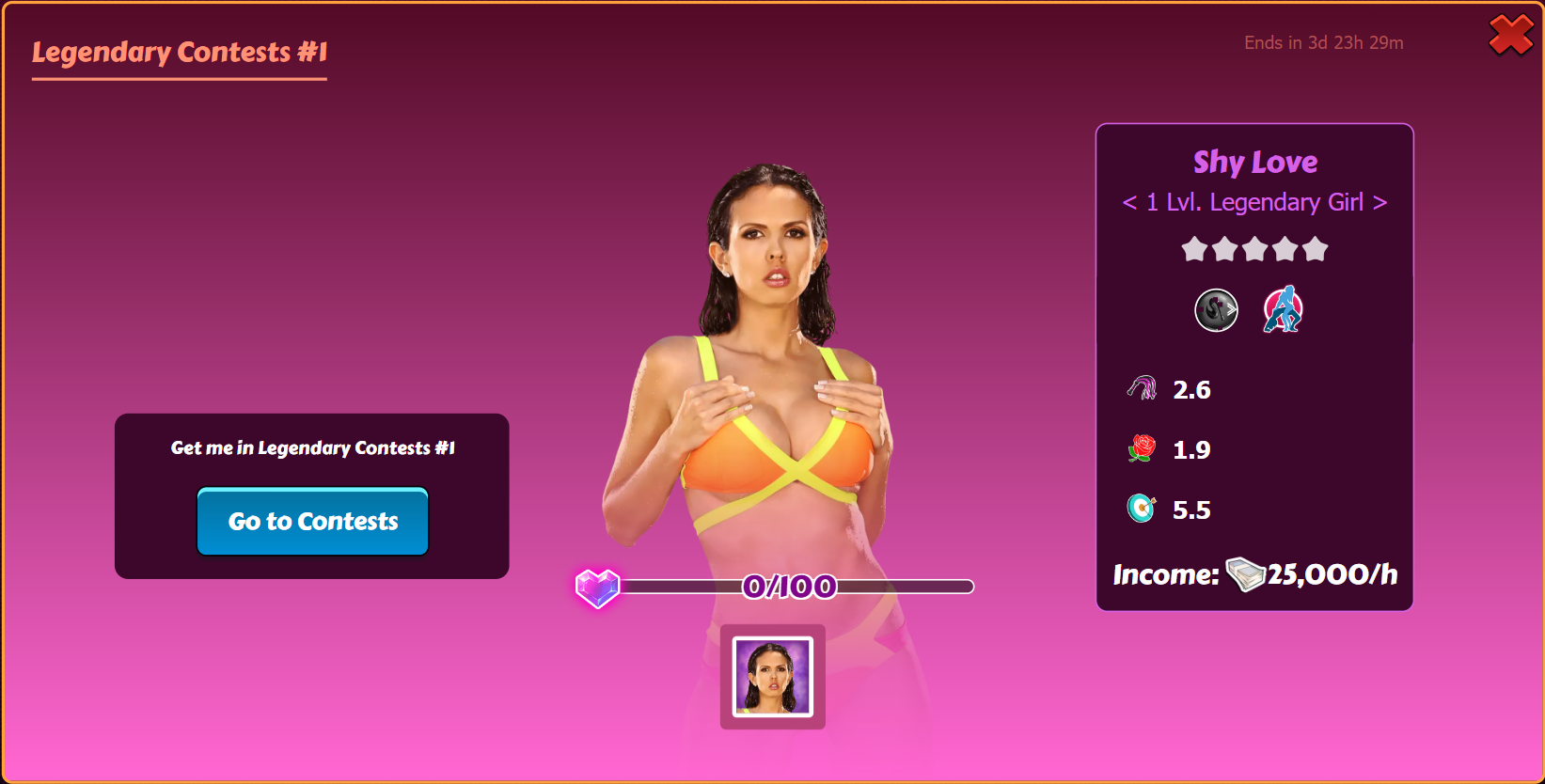 How do the Legendary Contests work?
All players who have been active in the past 72 hours are divided into several brackets of 50 players each. Then they have to compete with each other to be the best performer.
I don't have access to these Legendary Contests. Why?
To have access to the Legendary Contests, you have to:
Have reached level 20
Have been active during the 72 hours before the beginning of the event
Don't have rewards from Contests to collect older than 4 days
If one of these conditions is not met, you will not be able to compete at the Legendary Contests.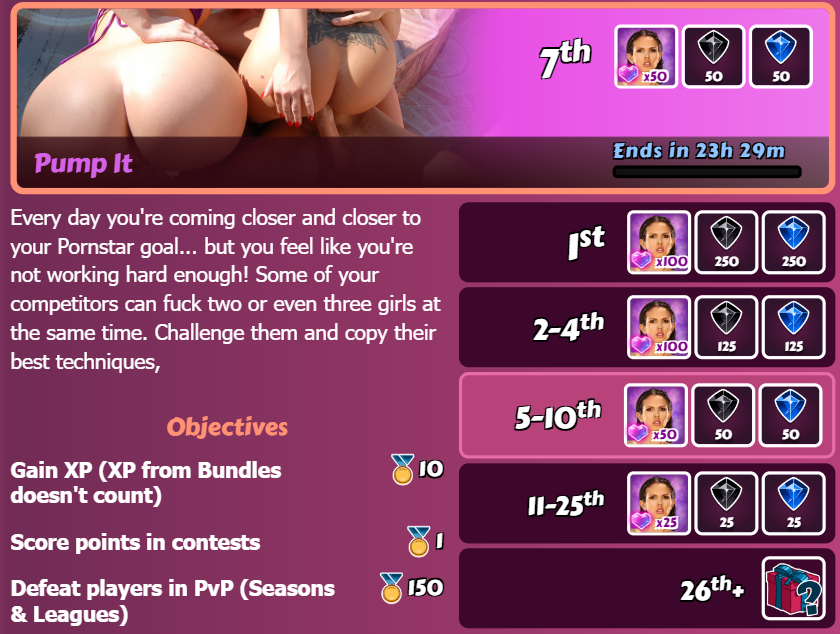 What are the rewards?
During these Contests, you can win:
A 5-star Legendary pornstar, who might come back one day for players who couldn't claim her during the event
Shards
Orbs
Legendary equipment
How much time do I have to get the rewards I won?
If you don't want to claim the rewards of the Contests now, you can wait. However, remember that after 60 days, the rewards will disappear 
Can I play after I get the Star?
Yes, of course. After winning the Star, you can keep enjoying the event by getting other rewards which will improve your statistics and make your Harem bigger!
Legendary days 
A competitor has enticed a legendary Star and you need to show her you're worth her attention. Stars from Legendary days are very powerful and have a 5-star affection grade. The event lasts 4 days.
During the event, you will have to show off against a specifically chosen competitor for a chance of attraction shards to drop.
One new 5-grade Star will be available on one competitor.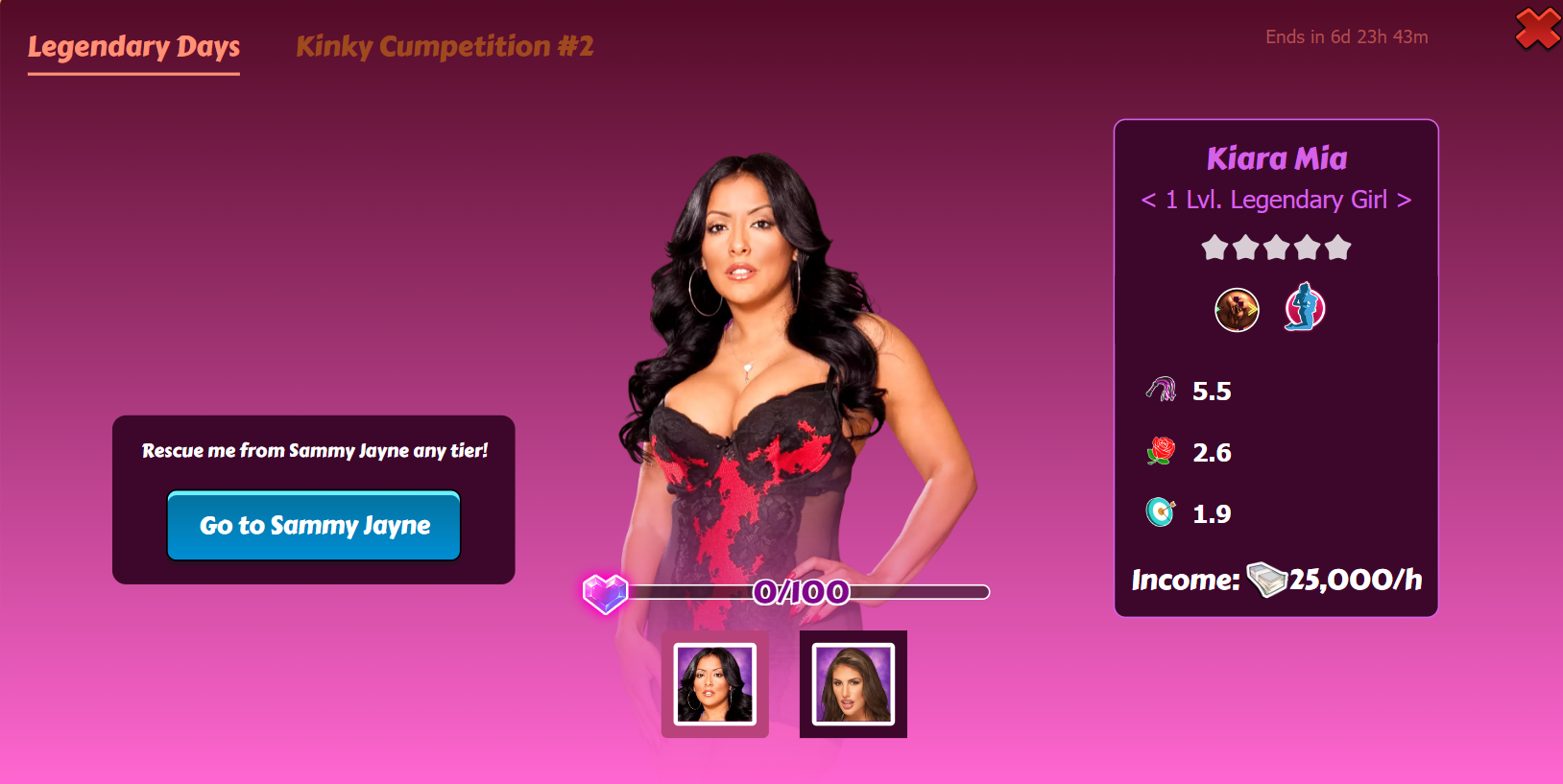 Kinky Cumpetition
Kinky Cumpetition is a PvP-oriented event that occurs twice per month and lasts for 2 days. Aspiring stallions compete by showing off against each other in the Leagues and Season battles and reap extra rewards during the duration of the event.
Duration
Kinky Cumpetition will take place alongside other events. The event will last for 48 hours.

How to play
Click on the event widget "Kinky Cumpetition". Choose whether you want to battle in Leagues or the active Season. Collect amazing rewards. Great success.

Path of Virile
What is Path of Virile?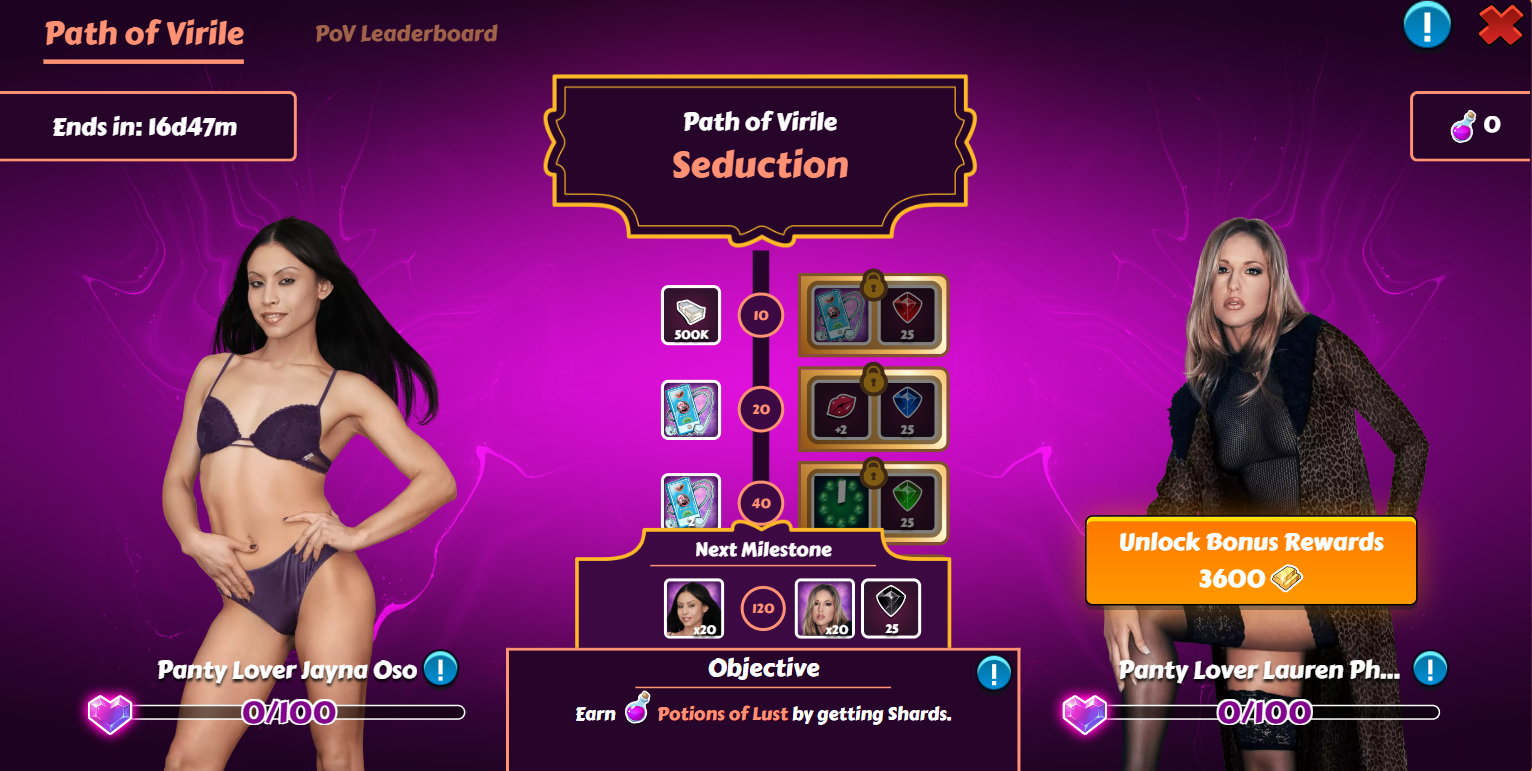 The brand new event Path of Virile will allow you to unlock more rewards and exclusive Stars by completing in-game goals for two periods of two weeks every month.
Participating in Path of Virile will bring you all sorts of rewards, by doing regular daily activities in the game! And most importantly get Stars by offering them Potions of Lust! We want you to be able to win more Stars and more extra-special rewards while also facing new challenges. The more competitive stallions can check their spot in the leaderboard as well.
How do I get Stars? And what are Potions of Lust?

To gather Potions you will need to complete different in-game objectives such as playing the Night-Club, participating in the Leagues or win Star affection shards.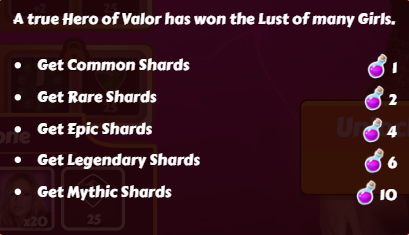 How does Path of Virile work?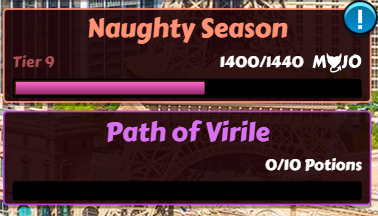 The Event includes two paths with all sorts of rewards.
One Path is entirely free and one can be unlocked for additional rewards.
Both the free path and the locked path will contain an exclusive Star for you to win!
Every two weeks a New Path or Virile will appear for you to complete.
The top 1000 stallions will appear on the Leaderboard with the highest-ranking points.
The Leaderboard will be reset every two weeks with each stallion starting from 0 Potions.
Couch Surfing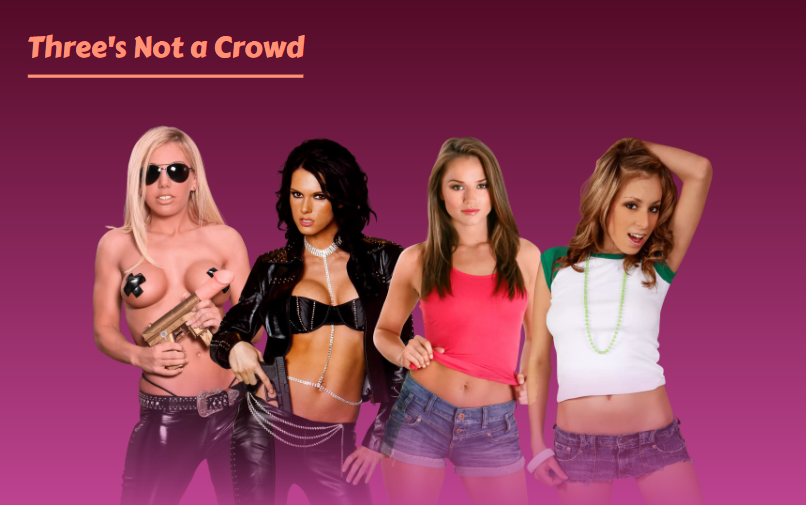 A set amount of challenges lies ahead of you, stallion. Complete them one by one and get amazing rewards!
To participate in Couch Surfing, you nedd to have completed World 2 (Fukwell University) and have uinlocked the Champions Feature.
Click on the Event widget (it may go by a different name – ex. Three's Not a Crowd", to see the event and the challenges.

By accessing Couch Surfing, you'll have to complete a certain amount of objectives in the right order. It means you can't complete objective 5 if you haven't completed objective 4. By completing the different objectives, you'll get different rewards: Energy, Combativity, Tickets for Champions, Orbs, money, and exclusive Stars! Make sure to always claim the rewards before the end of the event.
By accessing Couch Surfing, you'll notice that there are 2 paths:

The first path allows you to collect free rewards, and is accessible to all players;
The second path is only accessible if you pay in Gold to Unlock Bonus Rewards (7200 Gold). This path allows you to double the rewards of the 1st path and win even more exclusive rewards!
Tips & Tricks
One of the objectives is to spend energy. But I already reached the last Quest of the last World. What should I do?
To spend energy and complete this objective, you can:
1. Continue the main quest in "Adventure" or do a Side Quest if you have any available;
2. Go to the Pornshoot Set of the Champions feature, and buy a ticket using Energy.
I bought a Pass after I already started Couch Surfing. Can I have the extra rewards?
If you decide to invest in the Pass after you've already started Couch Surfing, you don't need to redo the objectives you've already completed without the Pass. You can get the rewards of the 2nd path immediately!
Epic Days
Epic days features 2 or more epic quality Stars, two of which are new additions to the world. The event lasts 4 days and you can seduce the Stars by challenging Competitors or by meeting them in the Epic Night-Club.
To participate in Epic Days, click on the Event Widget and check out how you can impress the Epic Stars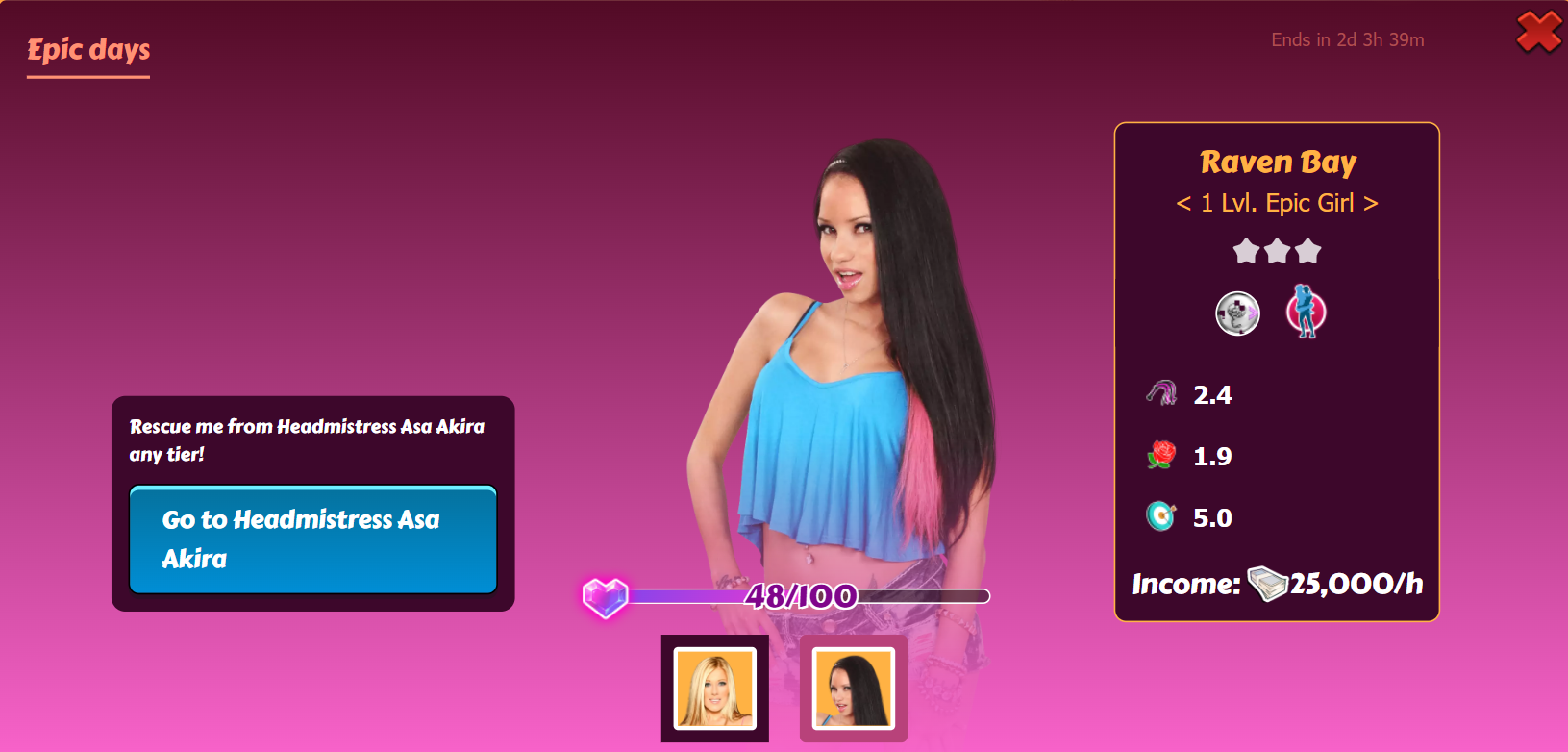 This article is still in development. We will update it every time we add a new event type in Pornstar Harem. Stay tuned for more event information!