🙊 Oh no! 🙊
Did you accidentally miss a few shards for one of the super hot recruits on an event? And now you're just so close yet so far from adding her to your harem?
💘 Worry not, hero! 💘

The hot and sexy recruits of the Haremverse are returning to you in all their glory in the new feature: Path of Glory!
Now that you're curious and that we have your attention, keep on reading, go down the
 ̶r̶a̶b̶b̶i̶t̶  glory hole, and learn more about this awesome new feature! 😉
🤩
What is the Path of Glory? 🤩
You might already know about Path of Valor (if you don't, head over to this article) and we'd like to introduce you to its counterpart: Path of Glory. Where PoV brings you hot new recruits to join your harem, PoG will be bringing back some of the lustrous ladies you might have previously missed.
With Path of Glory, you'll be able to win shards for girls you missed in previous events!
Plus, it's a new chance to pick up some pretty sweet rewards along the way (but don't worry, you're still the sweetest lollipop of the Haremverse) 🍭

🔎 How can I access PoG? 🔎
Path of Glory will be accessible from your homepage right next to the Path of Valor and other ongoing events!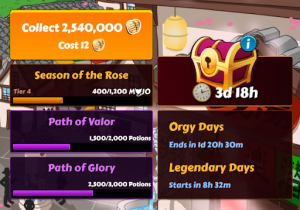 PoV and PoG will both be on the same menu!
⚡ You can quickly switch between PoV, PoV leaderboard, PoG, and PoG leaderboard. ⚡

😍 When can I start winning rewards in PoG? 😍
Sounds awesome and you can't wait to start trying out the new feature? 😘
Well, just keep in mind that to unlock Path of Glory, you will need to have reached level 30!
🏆 How can I win rewards in PoG? 🏆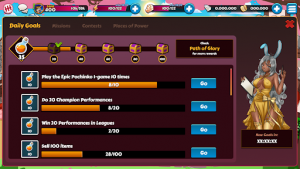 To progress in the Path of Glory and win rewards, you'll have to earn potions of fertility from Daily Goals!
There won't be any extra requirements, just keep winning daily goal potions and keep winning more rewards and hotties for your harem. It's as easy as (cream)pie! 🥧💦
Every time you win some potions of fertility for completing Daily Goals, you will get the same amount of potions going towards your progress in the Path of Glory.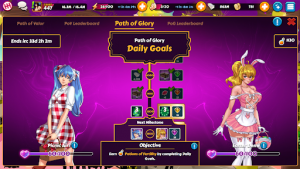 💥 When you do Daily Goals the potions you get will be counted towards the DG reward chests and the PoG. 💥
Common

Goal =

10

Potions

Rare

Goal =

15

Potions

Epic

Goal =

20

Potions

Legendary

Goal =

25

Potions
🔥 And, if you want even more awesome rewards and sexy recruits, you can unlock the second path of rewards for 5400 Kobans (900 Nubans). 🔥
Note that, when the Path of Glory is over, your progress and number of potions will be reset to zero, so make sure to collect all of your rewards before the event ends (unless you pick up a Monthly Card 😎)!
🏅
Will there be a Leaderboard?
🏅
Want to see how you measure up compared to other players? Show off your glory and skills?
Well, YES, there will be a Path of Glory Leaderboard ranking the top 1000 players!
⌛
How long will it last?
⌛
You will have 5 weeks (35 days) to win girl shards and rewards from the Path of Glory!
It will start and end on Wednesdays at update hour (1 pm UTC+2).
When the PoG restarts, all your previous progress, and potions will be reset to zero.
R̶a̶b̶b̶i̶t̶  glory hole? 🐇🕳️
It's time for you to go out there and prove that only a true Hero of Glory can attract long-lost recruits!
And, earn a bunch of sweet rewards along the way (unless Maybe the real treasure was the friends we made along the way – then check out the clubs 😉).
********************************************
Improvement: Skip Tier of Progression (PoV/PoG)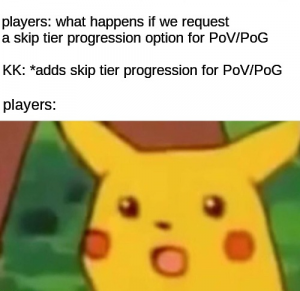 Sometimes, life happens and you join an event late or you just don't have as much time to be active during an event.
Life has its ways, but we don't want to let that stop you from getting tons of rewards and hot recruits for your harem! ❤️‍🔥
Following community requests, we've added an option to skip the Path of Valor and Path of Glory tiers.
How does it work?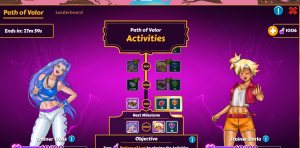 ➕ Click on the Plus next to the potions in order to open the pop-up. ➕



Once the pop-up is displayed, players will be suggested potions that are enough to get the player up to the next tier of the Path.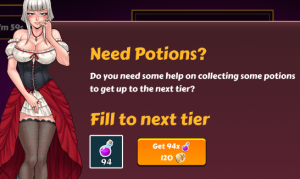 How much does it cost?
The price will be defined per Potion missing until the next Tier
PoV: 1 Potion = 0.15 / 0.9 Nubans/Kobans
PoG: 1 Potion = 0.45 / 2.7 Nubans/Kobans
The quantity of missing potions is calculated and then the Koban price is rounded up.
Potions bought with this feature count toward "Earn Potions" objectives.
Want to share your feedback on the new improvement?

💕 Find us on Facebook, Twitter, Discord, Patreon, and our Forum! 💕