💦 Your recruits just can't get enough of your sexual prowess and want more of you! Get ready for a brand new feature through which you'll get to interact with your love(lust)struck babes! 😍
💘 With this new feature, you can now receive exclusive pictures and chat with some of your favorite girls! You'll also be able to pick up some more sweet rewards to spoil your horny hotties! 💘
If you want to learn more about the new Harem Messenger feature and how it works, keep on reading! 😉
💬
What is the Harem Messenger? 💬
A new button has shown up on your homepage! It looks like a mobile phone and will lead you to a brand new feature: Harem Messenger!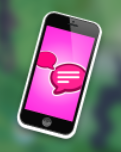 Harem Messenger is an awesome new feature that will allow you to chat and receive exclusive images from some of the hottest girls of the Haremverse.
Plus, you'll also earn some more awesome rewards to spoil your haremettes!
🍑 Where do I find this feature? 🍑
To access the feature, click on the image of a phone in the bottom right corner of the screen.

😘 How does the Harem Messenger work? 😘
The feature unlocks once you've reached World 2 and will not be made visible before.
Once you click on the mobile phone, a chat interface will open up. From there you will be able to see all of the hotties that have texted you!
🔍 To find a certain chat with a recruit, you can use the search bar with the magnifying glass.

When on a chat with a recruit, you will also be able to quickly access all of the pictures they have sent you by clicking on "ALBUM".
The most recently active chat will appear on top of all the other chats.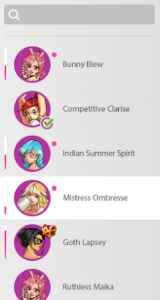 💕
How do I chat with the recruits?
💕
When a new message becomes available, a notification will appear.

If you have unread chats waiting, the phone will appear with a small notification on it. Don't keep your horny harem waiting and make sure to check out the Harem Messenger when you see a notification!

There are two types of currencies used to chat with the girls: 
 Frames are used to unlock exclusive images and can be obtained from the last chest in Daily Goals, in Epic Pachinko, and from the Pantheon's Stairway (every 100 levels). A picture costs 10 Frame currencies.
Replies are used to answer chats and replenish with time. You can store a maximum of 10 replies. A chat reply costs 1/2 reply currency.
😍 With which girls can I chat? 😍
There is currently a single Harem chat storyline during which chats with specific girls will unlock. This means that you won't be able to chat with all of the girls of the Haremverse.
You'll begin the first chat with a girl once you've unlocked the feature!
Chatting with one girl and completing a discussion with her can either unlock the next discussion with the girl or unlock a chat with another one!
It is not necessary to have the girl in your harem for her to start chatting with you.
When the feature is released, you will already be able to have 3 discussions with 5 girls!
This means that you'll already be able to have a total of 15 chats! 
💝 What are the rewards? 💝
Aside from amazing interactions with your favorite haremettes and super sexy exclusive pictures? 
Well, because we want to make sure you're taking good care of your girls, we made sure that every time you finish a dialog, you'll win 10 All Gems!
If you still have rewards to claim from a chat, a chest icon will be displayed on the girl chat avatar.
Note that: you do not have to collect the reward for the next dialog to be triggered.
🔥 So, are you excited yet? 🔥
We certainly hope that you are! Your recruits can't wait to start chatting with you 💬 and to begin sending you all of their sexiest exclusive pics! 📸
We look forward to hearing your feedback on our forum and discord, hero! Which girls do you like the most? Which ones do you want to chat with? Check out our social media and come share your feedback with us!