Pants off, heroes!
Their sexy panties are already soaking wet with desire and they can't wait to grab the hardest part of your bodies!
Get ready to meet the half-god of squirt, the gorgeous Nero and the bestselling erotica writer Fabienne! From the 10th (1 pm UTC+2) until the 14th (1 pm UTC+2) of October 2020, you will have four days to invite these two wild Legendary ladies to your Harems and make them squirt like never before!
You've never heard of Nero Sake, one of the most influential women in the Haremverse history?
Centuries ago, when the Haremverse was young and the heroes had not set foot on its virgin lands, she was the one able to make the girls cum. Gifted with a pair of enchanted panties, kinky Nero was giving fountain orgasms to all insatiable babes in need. But after a wild night of heavy drinking and hard fucking, wild Nero woke up with terrible hangover and without her special panties. From that moment on, squirting pussies were likely to become extinct just like endangered species. Can you imagine the Haremverse as dry as a bone where no one has not seen even a single drop of pussy juice for years?
If you can't, you better prepare yourselves to help gorgeous Nero find her enchanted panties before every kitty gets dry forever. Save her from Gruntt and catch him sniffing her worn panties. Believe us, it is well worth the effort. Freaking hot Nero know(s)-how to reward you for saving her life in 5 quest grades!
Fabienne also needs your help, heroes! Do you know-how to arouse her crazy imagination and become her next sensual inspiration? If so, save this girl from Finalmecia who captured her and took all of her creative liberty.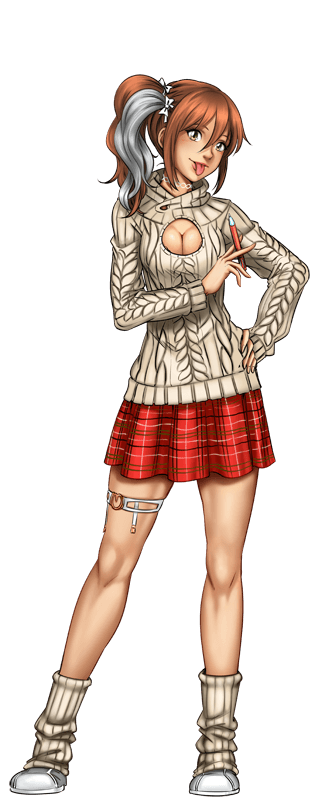 Nero
                                                                       Fabienne
P.S. The pussy is in the panties, so first you need to find them.