Hello all!
This topic is dedicated to update you on issues that are affecting the players.
Some of the issues have been reported via our ticketing system, Forum, Discord, and social media.
The "Known Issues" section is a list of all the issues which have been reported by players and the Tech team is currently working.
Please refer to this section to get the latest updates on the situation.
The "Fixed Issues " section is a list of all the issues which have been resolved.
We hope you'll find this topic useful.
Kind regards,
Kinkoid
Crosspromos

Some players can't get the expected reward.
In such cases, we invite you to open a ticket to the Support team in order to unlock the reward
HH/GH Nutaku Not Working With Safari

If you want to play Harem Heroes / Gay Harem on Nutaku using Safari browser, you have to go to your Settings > Safari:
Disable 'Prevent Cross-Site Tracking'
Disable 'Block All Cookies'
Last update of the list: 03.12.2021
Week 48   01.12.2021
Functionality Issues:
On Nutaku the banner is hiding the top bar of the game.  
Prices for Legendary books cost more than displayed

Status: Reported
Fix will soon be released
PvP

The x1  Perform button stays grayed out, once you refill using the 50 or 10 x Perform button.
Status: Reported
Under research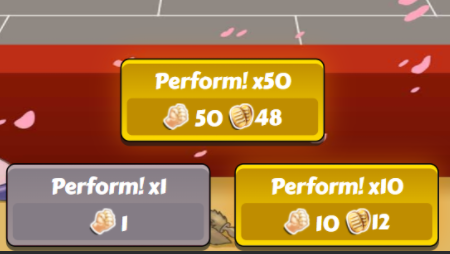 Visual bugs:
Visual issue where the grid with avatars moves to the left.
Status:Reported
Others:
N/A
Fixed Issues & Bugs
Seasons

Visual issue where Yemen being removed from the Seasons issue has been fixed.

On GH some player were not able to see the free Awakening bundles
Market

Visual issue where items are wrongly displayed with a "x500″ the amount
Status: Fixed from week #47
Gay Harem
Rewards from Maro villain, Ninja Sacred

Item drops are displayed as x15 times the amount
Wrongly displayed rewards from Maro (The incorrect amount of items are not added to the inventory)
The actual amount received is 1

Status: Fixed
Reported Week #47
Harem optimization issues

Girls appear twice in the harem section
Contest rewards
Reward section displays the wrong amount of rewards – x25 

Reported on  Week #47
Status: Fixed
Week 47   24.11.2021
Functionality Issues:
Awakening

Awakening does not provide level up points in "Contests"

Status: Reported
Fix in progress 
Visual bugs:
Others:
N/A
Fixed Issues:
Login issues

Due to the SSO login system, some players have difficulties accessing the games. The issues are mostly linked to cookies domains
Previously Fixed Issues:
Seasons x10 opponents aren't sorted by mojo has been fixed
Koban spending notification does not work properly issue fixed
Fixed an issue where leveling a girl didn't work on occasions
Issue where new players were not able to challenge villains, participate in PvP and progress in the Adventure has been fixed
Zodiac filter not working for other languages has been fixed
Mythical pachinko timer not functioning for August Event Promo issue has been fixed
Issue where the page was breaking during level up on season fight
Widget shards count for the mythic event has been fixed
Leagues using fight energy instead of challenge issue has been fixed (x15 issue)