Gay Harem is celebrating the monumental achievement of a thousand hunks in the game. That's a thousand wet dreams come true, a thousand unforgettable encounters of the third base. And that's a thousand reasons to celebrate this amazing community!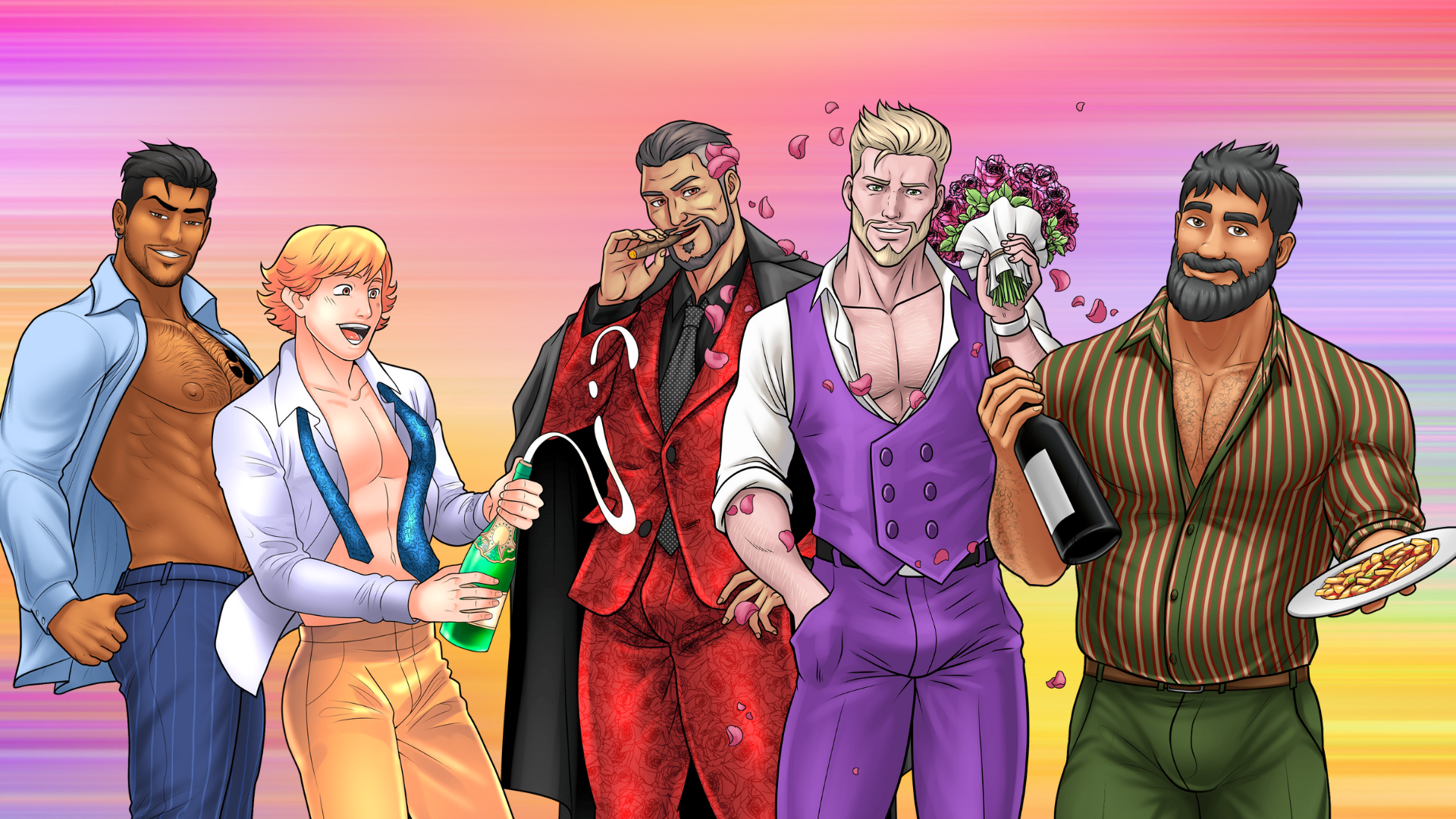 Dearest Heroes, 
There are moments when one looks back at the humble beginnings of a project or a game, and is grateful that it's been able to go so far. And a sense of pride and accomplishment is felt in the air. That is exactly how we, the Kinkoid Team, feel at this moment. 
We recently marked the milestone of one thousand recruitable guys in Gay Harem. And this is a moment to celebrate.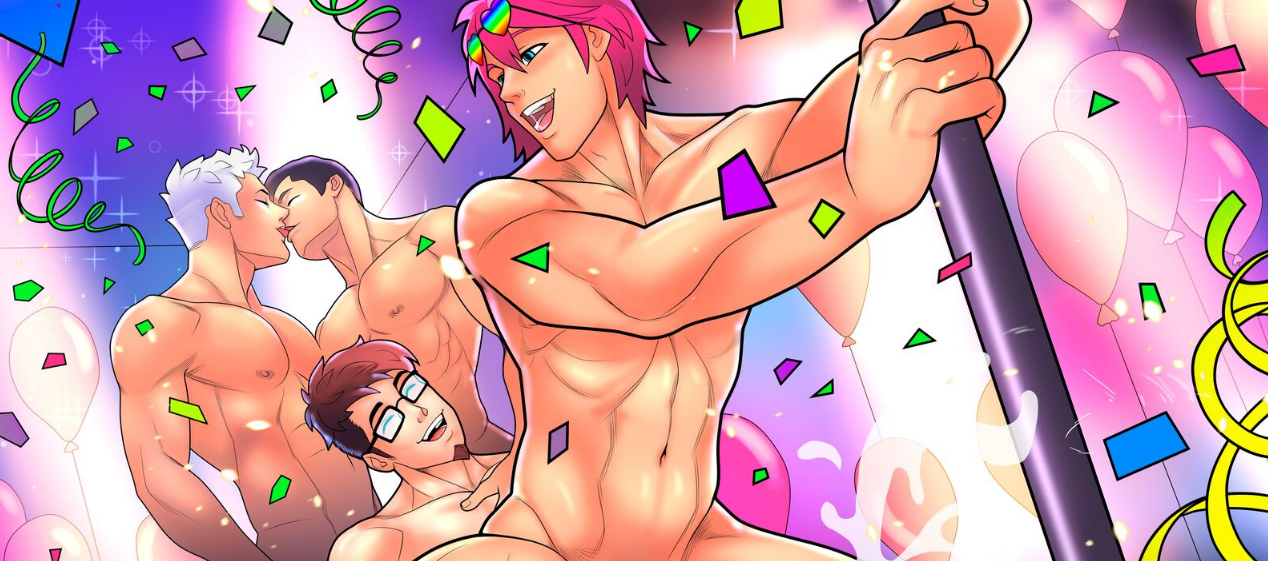 We can proudly say that the gay Haremverse is the safe haven we all secretly wish we lived in. A world without borders, without limits, with joy and pleasure and lust being the leading emotions. And most of all, everything always happens with kindness, positivity and consent.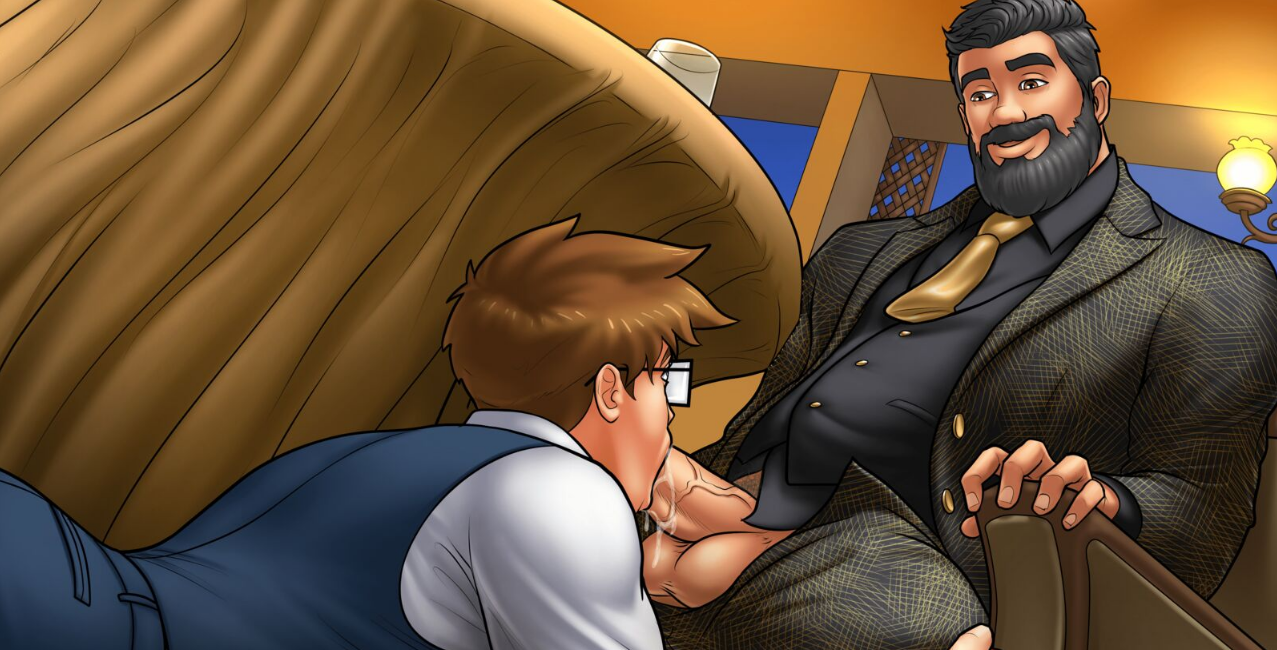 A world crafted with lots of love, attention to detail, and humor. Created by a team entirely of passionate LGBTQ+ members, activists, and allies. We've always strived to be inclusive to all shapes, sizes, bodies, roles, kinks and fetishes, as we know that our loving community is just as diverse and as exciting as the Haremverse itself.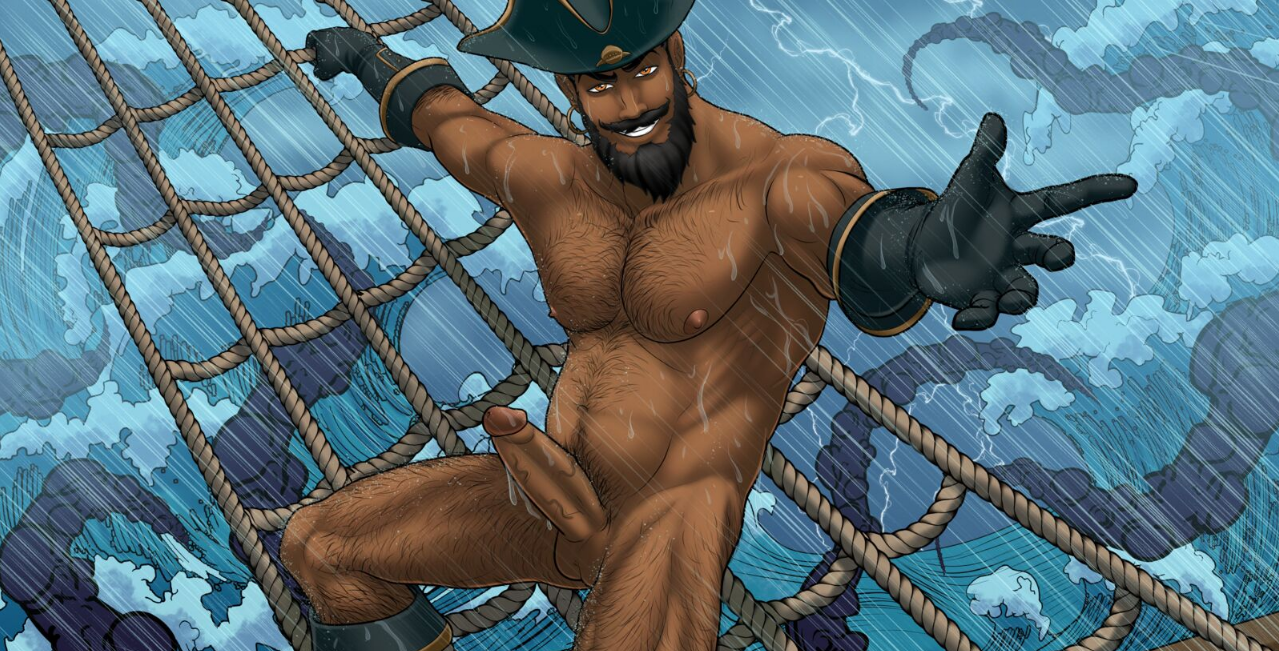 From the start, we've always done our best to include the hottest studs from the best manga, anime, comics, games, and other works of fiction. We've also had a fair amount of original characters we're proud of, and Bunny recently recruited our very first real life adult entertainment celebrity – the incredible Manuel Reyes.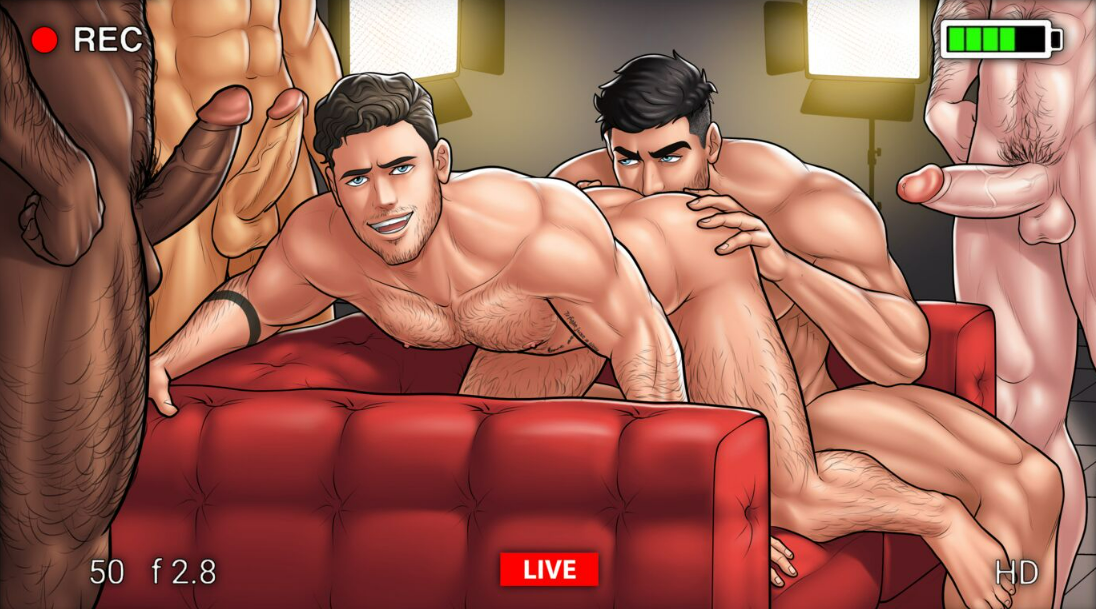 And we're not going to stop! Gay Harem is running at full speed, and we have tons of exciting quests, stories, worlds, guys, and (mostly funny) jokes ready to enter the world we all know and love! Santa Claudio's workshop has also never stopped creating, and tons of wonders are currently in the works. 
A thousand guys is a milestone we're proud of. We hope to be able to give you at least a thousand more. We will keep working our backyards off to further develop this amazing universe, and hope that it will keep sheltering the hottest hunks and the most adventurous heroes for years to come! For our Heroes are what makes this universe feel so full of life and excitement! 
To our loving and passionate community, we thank you and we adore you!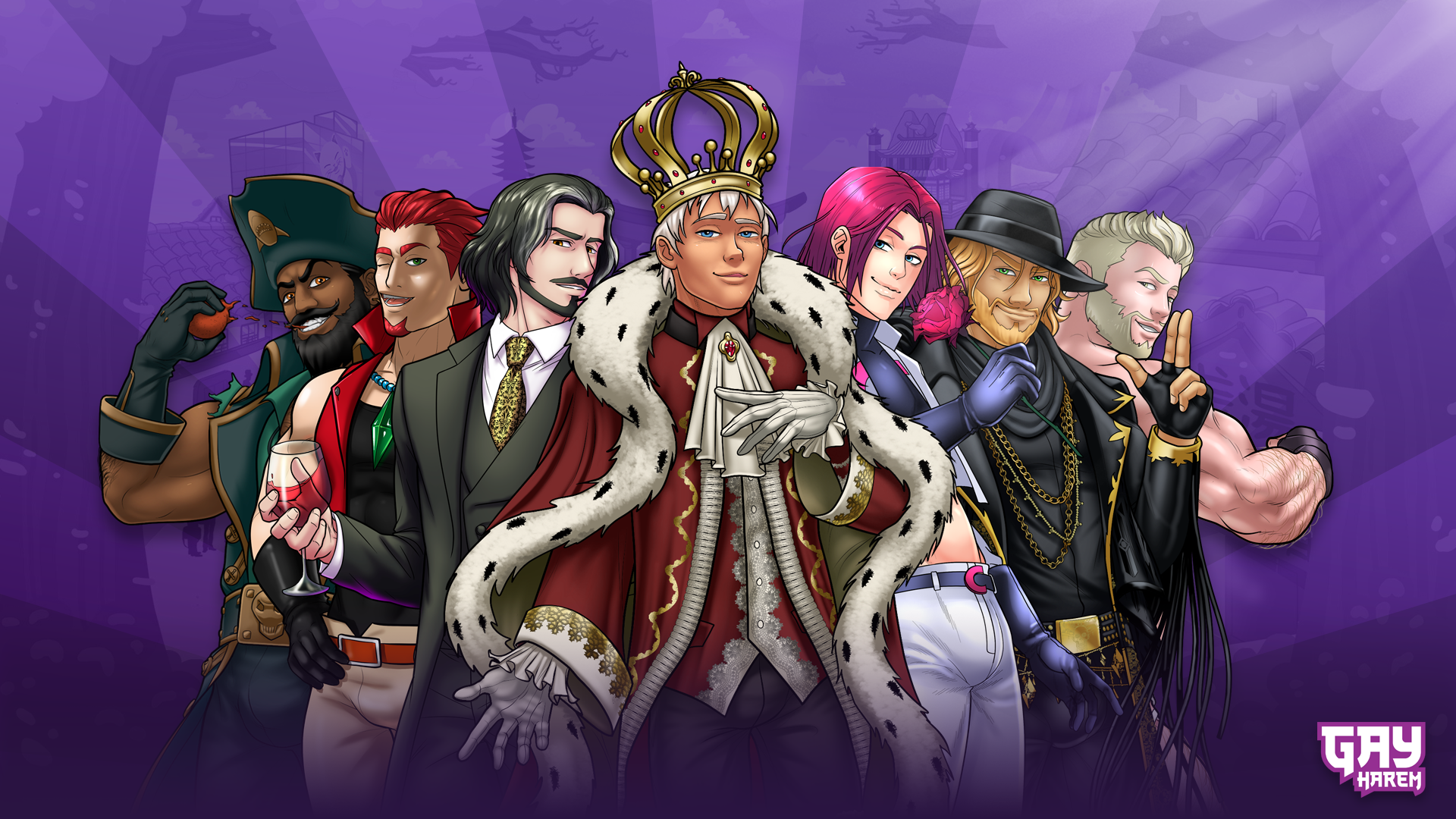 As a little surprise, here's a few things that the team behind Gay Harem wants to say to you: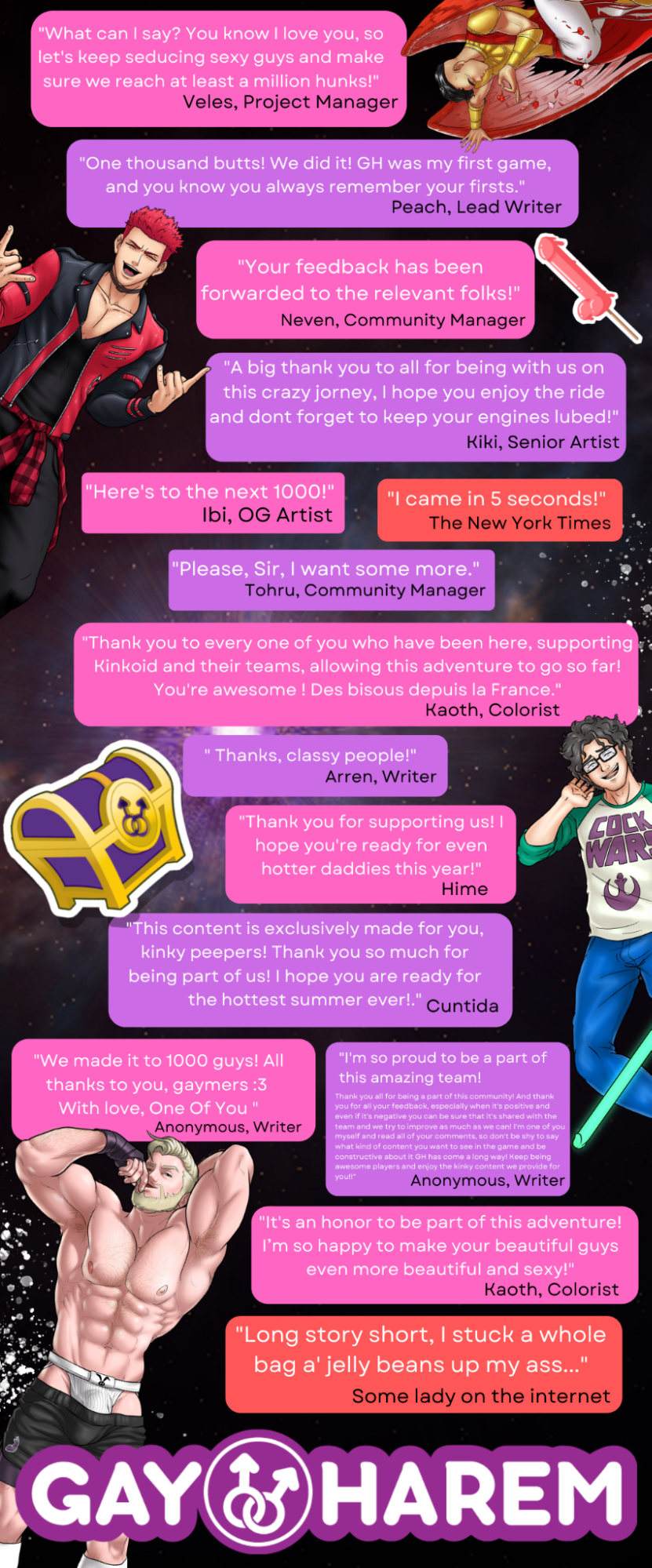 And as a bigger surprise, we've prepared a redeem code for all our Heroes out there: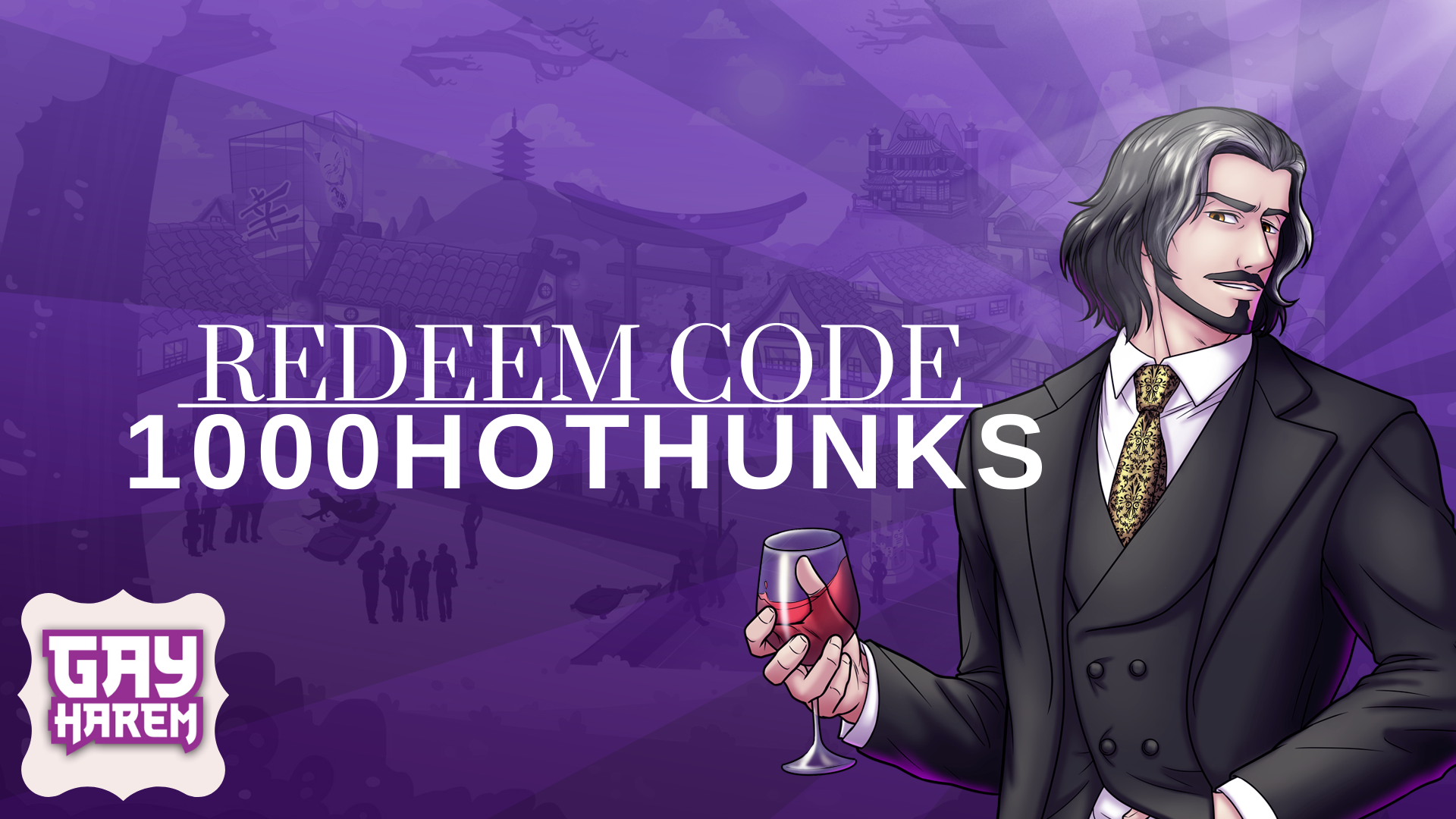 And remember: 
"I, uh, I probably said this earlier, but … uh, there can be a hundred hot hunks, or a thousand hot hunks in the room and nine thousand….uh, 999 don't believe in you, and one does. And that was Bunny. So all you need is this one Bunny who changes your life forever."
– The Hero
Forever yours, 
Kinkoid