Western Adult games have evolved very quickly over the last few years. We had games like the legendary (albeit abandoned) Big Brother, Dreams of Desire, and many others. The art was amazing but not so polished, the music not so clean, the English not so perfect. Things have changed – art is polished & professional, there is music and voicing, proofreaders make sure games look professional. But through it all, one game has stayed relatively similar to how it started and has somehow been on top of the market since its inception.
Summertime Saga, the game in question, has a whopping 26,781 patrons on Patreon as of the writing of this article. For adult games 100-150 means a solid basis. The number of supporters makes its status undeniable as one of the best games in its genre.
In Summertime Saga you play a regular kid living with his "housemates" (it was family, before Patreon's incest rules). You live in Summerville, a town with a surprising number of locations each of which has a side character and a story attached to it. At first, you interact with your housemates and schoolmates, but you very quickly get access to side characters. There's mostly standard school stuff, but it gets weird in a fun way at times with forest spirits, mobsters, and such. The gameplay is a sandbox with puzzles, but not too much grinding.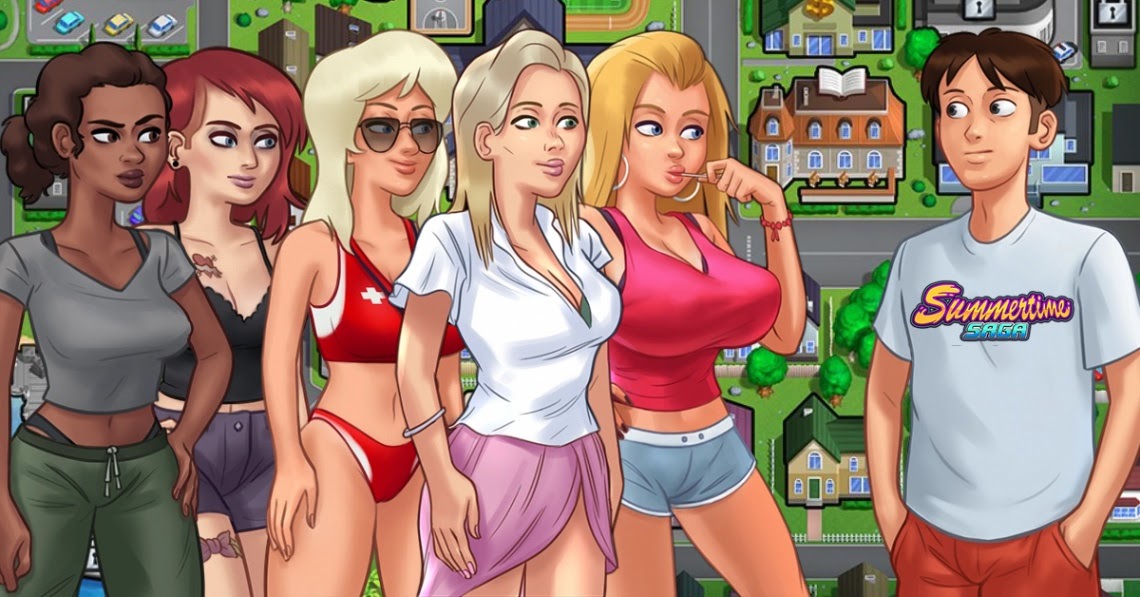 So why is it the most supported game in its specific genre? Well, for starters, the art. The game shies away from the perfect, barbie-like, clean look that has taken Western adult visual novels over. Aside from being very pleasant the art just does not age the same way renders do and will remain fresh for a long time. Despite having similar features, characters are distinct and interesting. Scenes are animated and one of the things that really stands out is that animations don't just come out of nowhere, interrupting the scene in the way most games do it. There is a seamless transition from a render to an animation.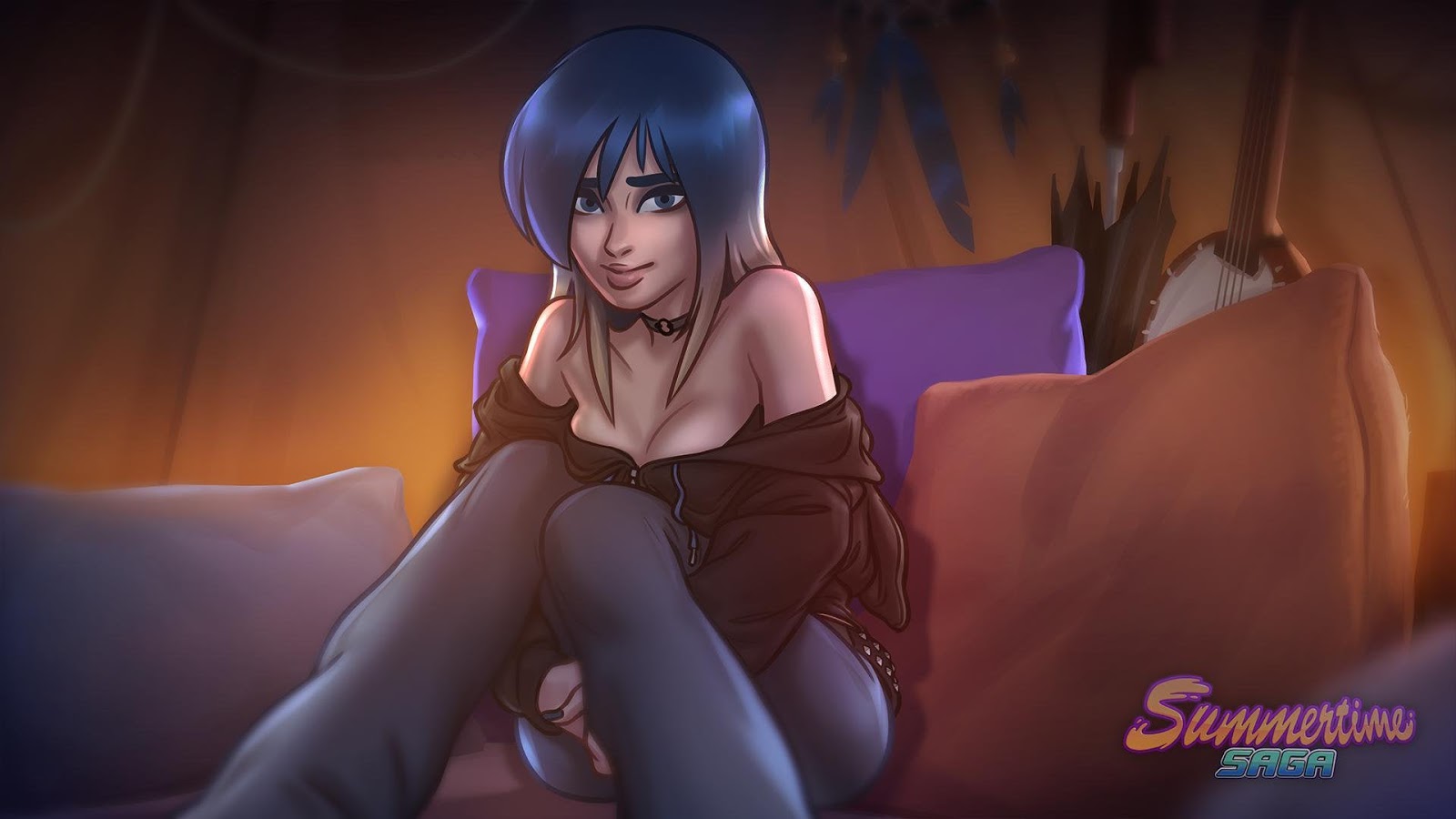 The writing stands out as well. Where many adult games can be dark and heavy, Summertime Saga goes for light and fun. The main stories are the focus, but the sandbox nature of the game gives full attention to side stories and they all feel like a story in their own right. There are wonderful little minigames in the story such as picking out the right verse to win a rap contest or shooting targets. All of it is fun, romantic, and light.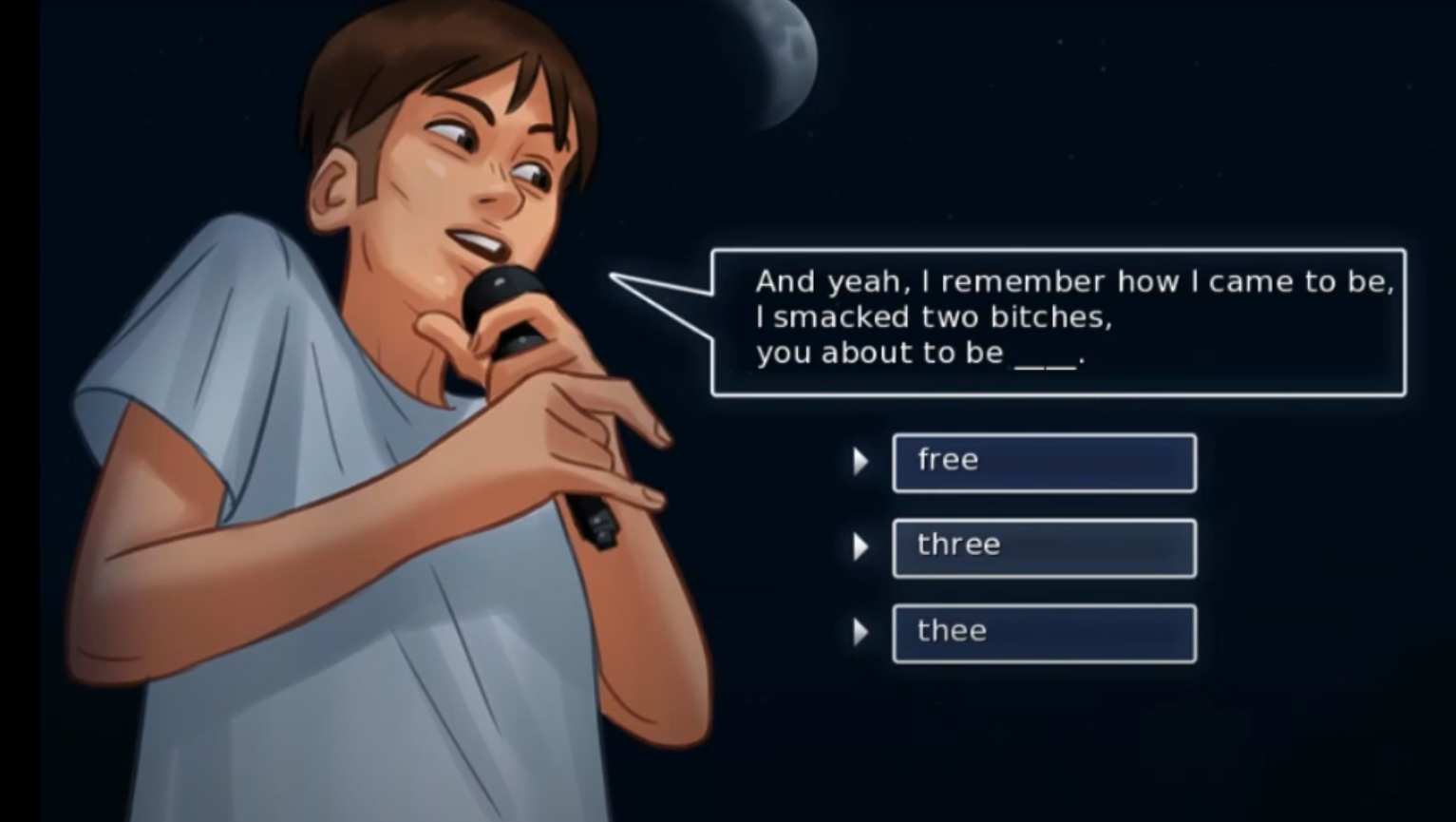 There's quite a lot of light humor in the game as well. The salesman of the car dealership is Kim Jong-Un. There's mayor Ronald Rump and his family. The head of the church of Summerville is Keeves (Reanu Keeves, most likely). All of it is in good fun, never going too deep or trying to send a message.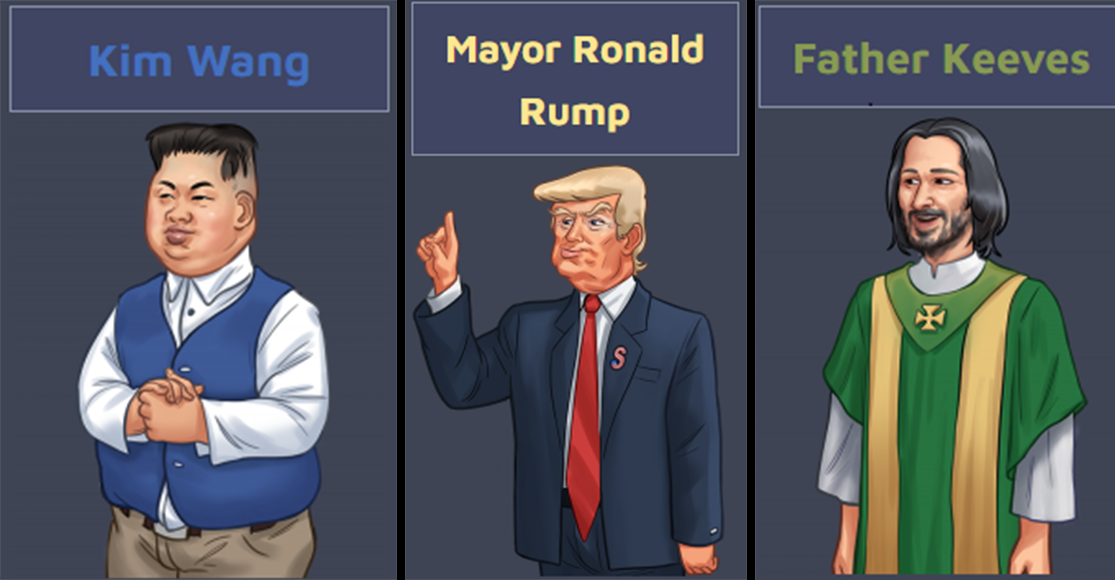 For fap-worthiness, the game tends to bank on fantasy a lot. The popular girl at school, the nerdy girl, the friend's mom, the aunt, teachers, and much more. It is not a game to pick if you want interactive porn. But perhaps the fact that you're not chasing tail from the beginning makes the scenes more organic and thus more immersive.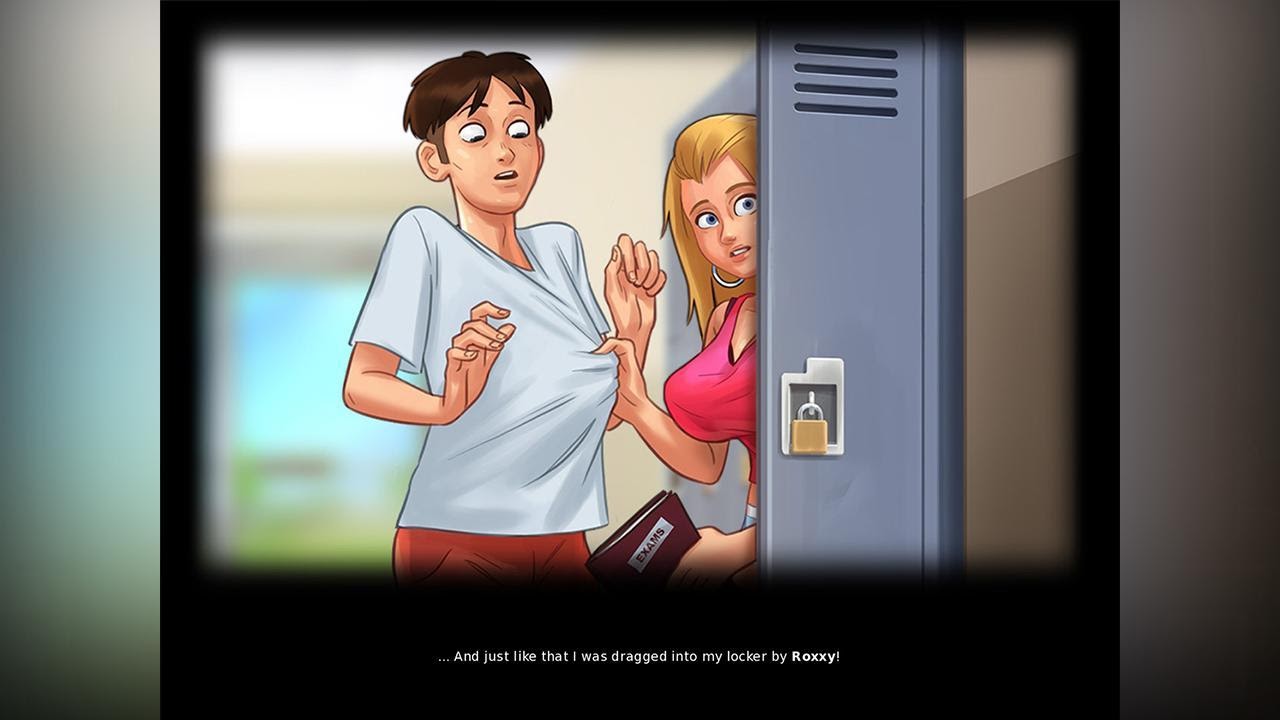 The interaction of the dev with his supporters also stands out. The Patreon gets a lot of attention, the dev puts his money towards improving his games and hiring new people, there's a wiki, a website, everything you might want. Updates have bars of progress people can follow and it's not just speculation. It's a list of tasks with precise numbers, i.e. "Art – 1/22". 
And the cherry on top – DarkCookie streams himself drawing for the game.
There are not a lot of cons to point out, except for some cliches. Now, this is with a huge grain of salt – when Summertime Saga came out, most of its cliches were not, actually, cliches. A lot of them stem from the game itself (well, except the incest) and some are intentional. The implied incest may turn some people off, especally since there's actual pregnancy. Yes, it's changed to the standard housemate/landlord thing to avoid issues with atreon's rules, but it's pretty obvious. It also takes a while for updates to come out and they go for quality rather than quantity (even if there's a decent amount of content), so if you finish the current build and play update-to-update, you could get starved of content. 
Even after several paragraphs it all still boils down to "light and fun", but that's the feeling that Summertime Saga goes for. The feeling of your adolescent years in school, all those fantasies, all those summers you miss, all the things you wish you did.
Oh, and it's free.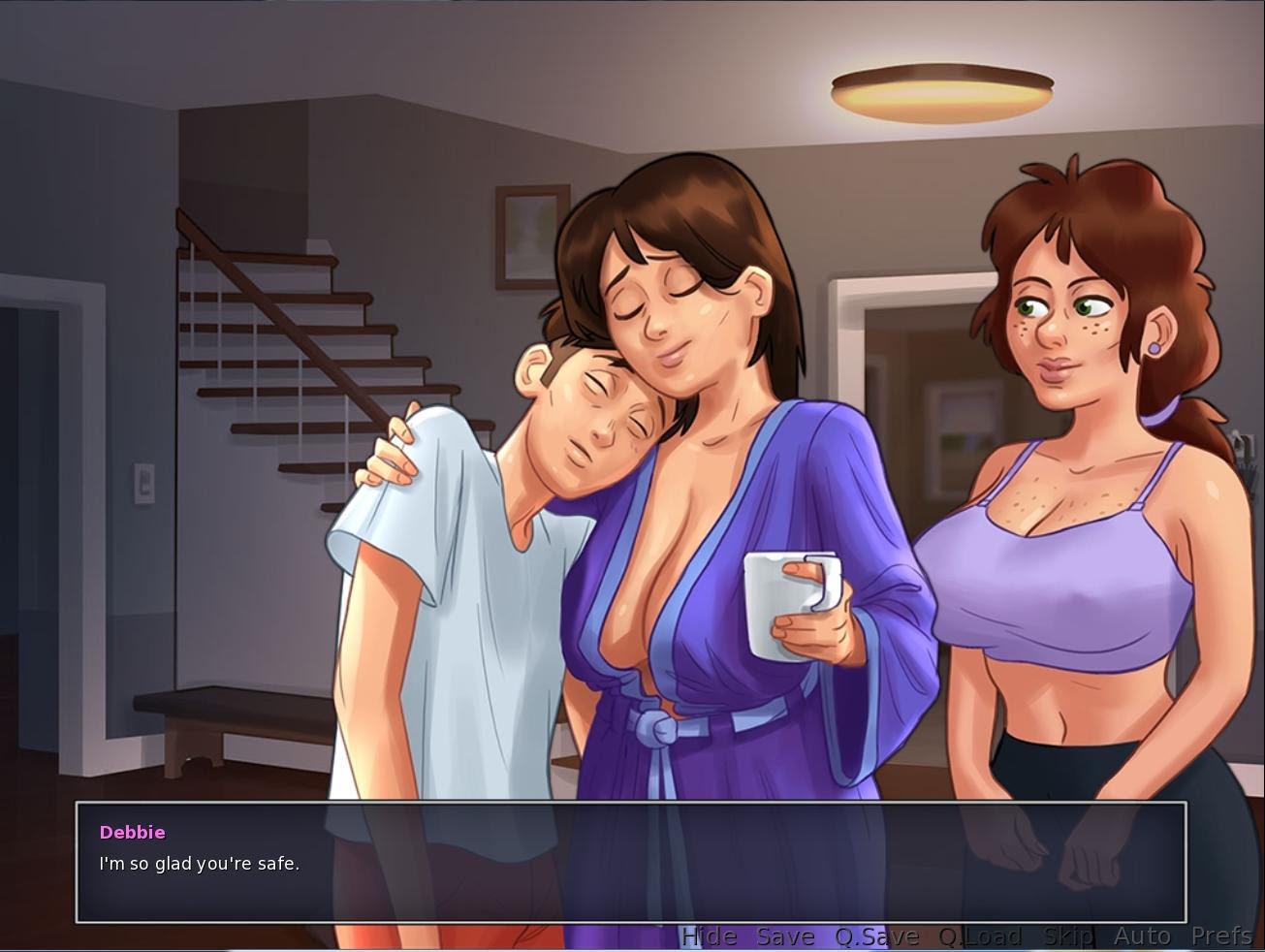 TL;DR
Play or don't play? 
Play if:
You want to relax

Go on a nostalgia trip to your childhood, live out fantasies from school

Laugh and smile between faps

You want to play a professional, well-done, AAA quality adult game

Don't play if:
You want interactive porn

You want a deep, dark, sexual story

You want a visual novel with little player involvement