Hey there naughty!
Mating Season is one of Akabur's little visual novels. This one is even smaller than his typical works.
What it is really – is a little novelty porn comic for the most part.
A self-contained episode that shall we say is what happens when a fan of the Turtles and decided to modernize it to the age of pornhub. The hilarity ensues very fast as some of the original soundtrack kicks in, setting the tone.
I would say that the drawing is exceptional but for some reason, the cover image is the limp dick in the story, and makes for one of those odd occasions that ingame content represents the title better than it's actual cover at.
I for one am happy to see the Turtles being drawn in their more classic versions as opposed to the new heavy on steroids mutants we've gotten with time.
The tiny sex sandbox is interesting in its own right. Pretty hilarious and no doubt quite hot for some fans.
I really can't write much about it because it's so small and giving out any of the fun moments away is unnecessary given that the game is completely free and you can get balls deep into it in a matter of minutes.
Let's just say that even for a simple and short porn script it manages to remain entertaining throughout, and the personal touches like music selection and appropriate sound effects really make it come alive. Or just come, in some cases 🙂
I'm having trouble deciding if this would be better with voice acting added, but it seems to me it's good the way it is. Perhaps it preserves the fantasy of the pervy TMNT fans, without imposing unknown actors on top.
The detail that really ties it all together is that April has been drawn in a variety of emotions that change in accordance with the dynamics of the scenes. Such a small experience can't really work when you throw in a single JPG for a variety of mood changing dialogue.
Basically Mating Season is like a birthday chocolate someone gave you. It's pretty good, but before you know it – it's gone. Ah well, at least it was free and sexy…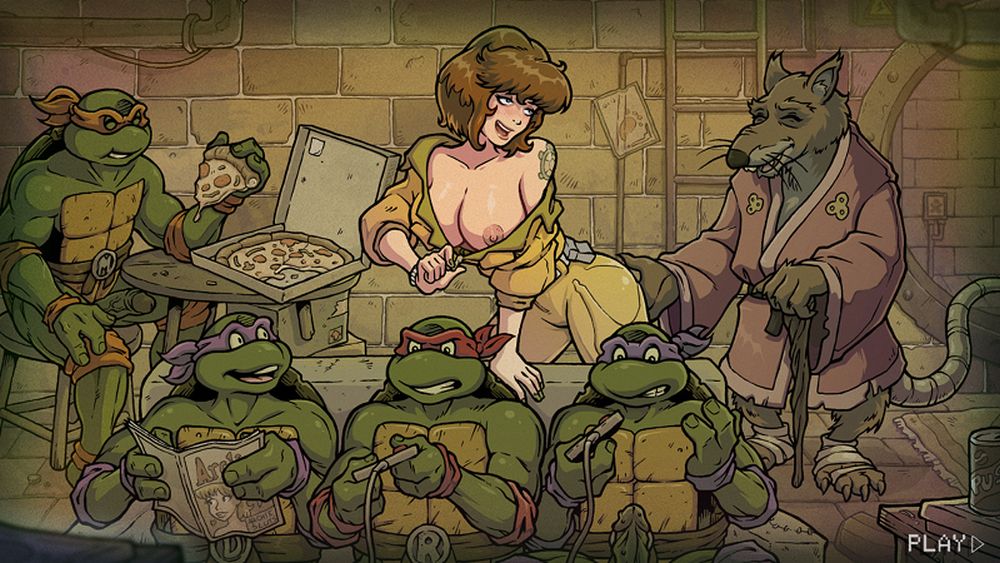 This isn't Akabur's only encounter with TMNT so you can go check out what other naughty stuff he has been up to with April and friends 🙂 Though he probably should try to produce something with more juice and playtime one of these days. Not just these fast snack type of shenanigans he's always up to.
You can get Mating Season here:
And you can find Akabur's patreon page here: