Hey there naughty!
Like most similar games, Nympho Trainer leans on the BDSM aspect for the most part. I personally prefer BDSM themes to be at least slightly dark, and not so cartoon happy but I'm sure it excites enough people the way it is.
You can expect to be armed with a variety of toys to fiddle with. I think that as VR establishes it sells steadily people will move on from their obsession to fiddle with virtual gadgetry and come back to staples such as storytelling and more gameplay. Time will tell. Meanwhile, just try to milk the ball gags, whips and vibrators for all their virtual entertainment possible.
The girls offer some ok level of customization. Surely not so much as the wider variety of hentai fans would want but some still. Should you want your blue-skinned or hulk chick to bang, you can have some fun with the customization options. Who knows you might be able to pull off a convincing undead girl, if that's what you're into. Unfortunately, it doesn't come with undead moans and grunts, but the genre is still young. There has to be some hope left for the future.
I for one just rather sit out the phase where VR games are clunky and get back into it, when they start throwing around amazing games. I still consider that great games manage to sell hardware nobody else would otherwise care about. Unlike say consoles today that people expect you to buy because they slapped a new number on it.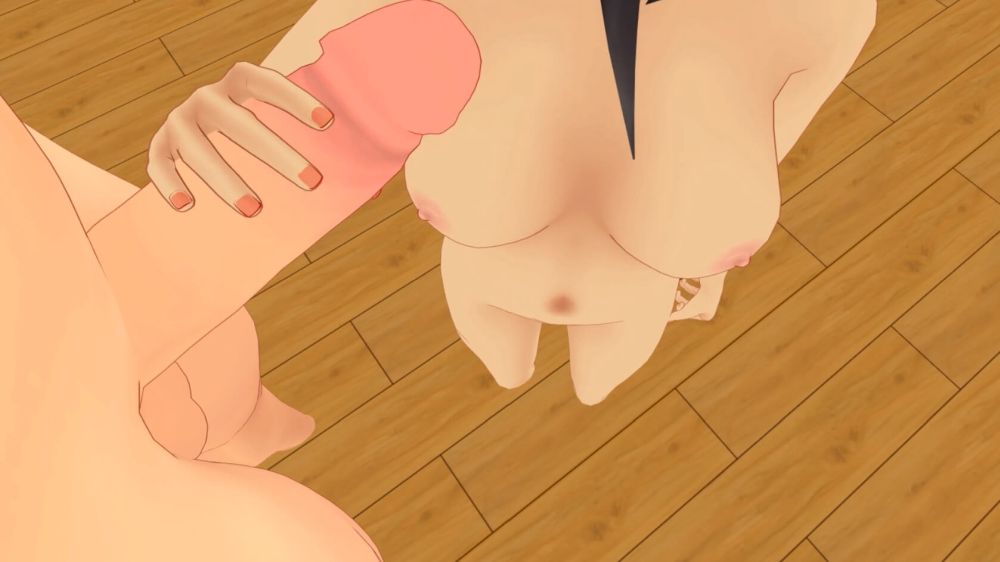 The variety of control you have in Nympho Trainer is alright, more than some, less than others – enough to get some roleplay going on. I mean why else would you have a virtual dungeon, while most of the world has pretty open doors real ones.
I don't know how much interest there in dressing up your hentai chicks, but there is some wardrobe to keep you busy if you are into that.
Good thing is that they have considered that you might actually need hands freed from fiddling with in-game objects so the girls themselves provide some action as opposed to older games where they just sit there and wait forever for you to do everything yourself. They have taken into consideration that you probably need to control it effectively only with the one hand.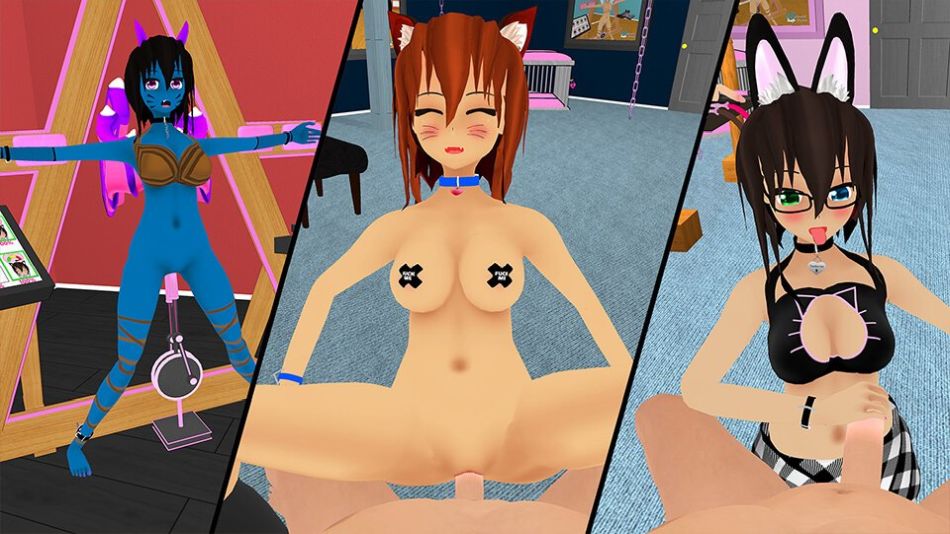 You may have to get hooked with an uncensor patch if you play it on Steam, but the other places you can grab it very much don't bother you with that.
Obviously it's not the highest grade VR game in the world, so you can't expect a full range of motion – you occasionally feel locked into certain sex activities, but considering we had nothing a few years ago it's cool overall.
My advice is to take it slowly, be very vanilla about it and ramp up the kinks as you move. The structure isn't very deep so if you frenzy into it, you might get a sense there isn't a lot there. It's usually a risk with most similar "structure your own gameplay" types of sandboxes without any progression or objectives.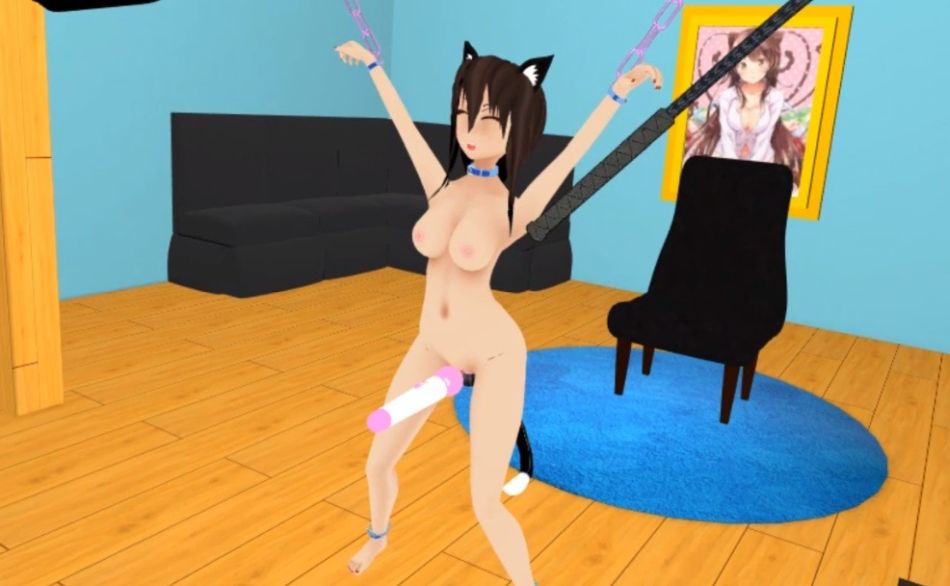 Who knows, you might be one of those people who is into this just because they get to fiddle with hentai girls' hairstyles 🙂
Perhaps bigger snafu in judgment is the lack of more varied body types. Not all of us are into these borderline pedo slim schoolgirls types. Who knows, that may be an insurmountable problem for the engine they use. Varying the bodies would include more anatomy and extra physics so they may just be sparing themselves the extra hassle.
It is this generation VR so, you can expect it being clunky when trying to do smaller interactions such as trying to move the girl's hand or doing small adjustments to her position. If you are not already used to these VR sandboxes, you will probably think about the lack of a tutorial.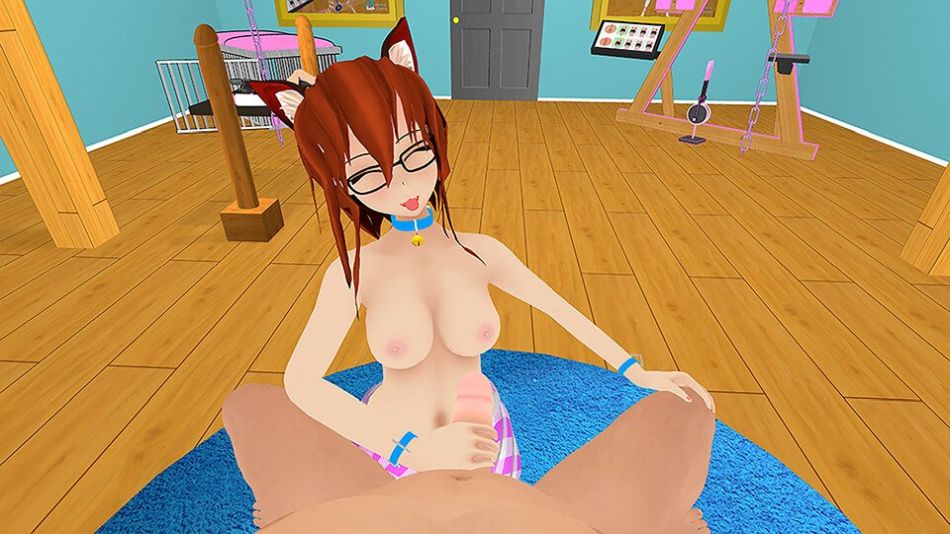 Sound design is a solid average. Some of the models glitch as you try to move when you are presumably not supposed to. I would think clearing those graphical bugs out is a priority for a seamless experience but we can't be too demanding of a mid-tier VR game.
What would you say about a game that didn't feature any audio on its entrance screen? You don't have to go full Skyrim or Icewind Dale orchestral music, but something to set the tone would be nice before we get to the actual content.
They did try to accommodate non-VR players so, it's obviously focused more on the sex and the kinks than the integrity of the VR details. As a whole it's ok. Now that these devs have some experience, if they up the stakes in the next game, things could become far more interesting.
All and all – throw in some catgirls, throw in some bondage and you already have happy people enjoying the game.