As I start Space Rescue, the first thing I notice is the great casual sci-fi vibe coming from the intro. It's chilled, cute, and makes me feel like I've just smoked one… 
About the plot: the MC is a nerdy guy, that I can relate to somehow. Getting his first mechanic job on a Rescue Ship, where all he needs to do is to repair what's needed. The captain of this ship is for sure so sexy, that I can't wait for the moment to do some "repair" work on her. I also need to add that as it is actually a visual novel, there's a lot of dialogue in the game and I am into dirty, kinky talking > the dialogues are sometimes too soft for me.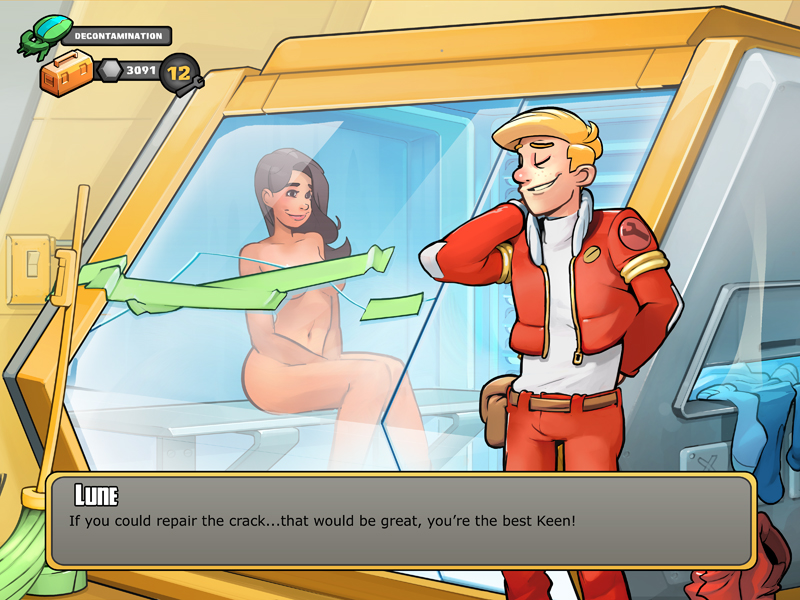 To get to the "real" stuff it gets a bit of grinding. But it pays out at the end.
About the design and arts: the menu of the game is well structured, it's easy to navigate and find which parts of your ship needs your skills! The art is well done, though… it's just sometimes that I can't escape from the goofy face of the MC! HHihih!! My experience comes to a great feeling for a space adventure, sex in the sky… Like, me alone on a ship where lots of repairs are needed, and girls… Sexy girls.
There's a different set of characters, that's good, but if you're into the Japanese style – skip this one. The game is created in a totally European comic style.

About the game itself, I enjoyed the little puzzles you get with your different tasks from the sexy captain. 
I could actually spend some of my time on this game.