Enter a world of freedom and pleasure
If you're looking to sate your cravings for delicious guy on guy action, why don't you let Bunny whisk you off to the Haremverse – a world not too different from our own, filled with magic, wonder and, of course, the most mind-blowingly hot and wild sex you will ever have the pleasure of experiencing…
The game has you play as a charming and exciting new arrival, you traverse the Haremverse attempting to stop the tyranny of those who are being selfish when it comes to sex. The story has beautiful visual novel gameplay, with regions and characters inspired by various aspects of pop culture such as anime, manga, movies and video games.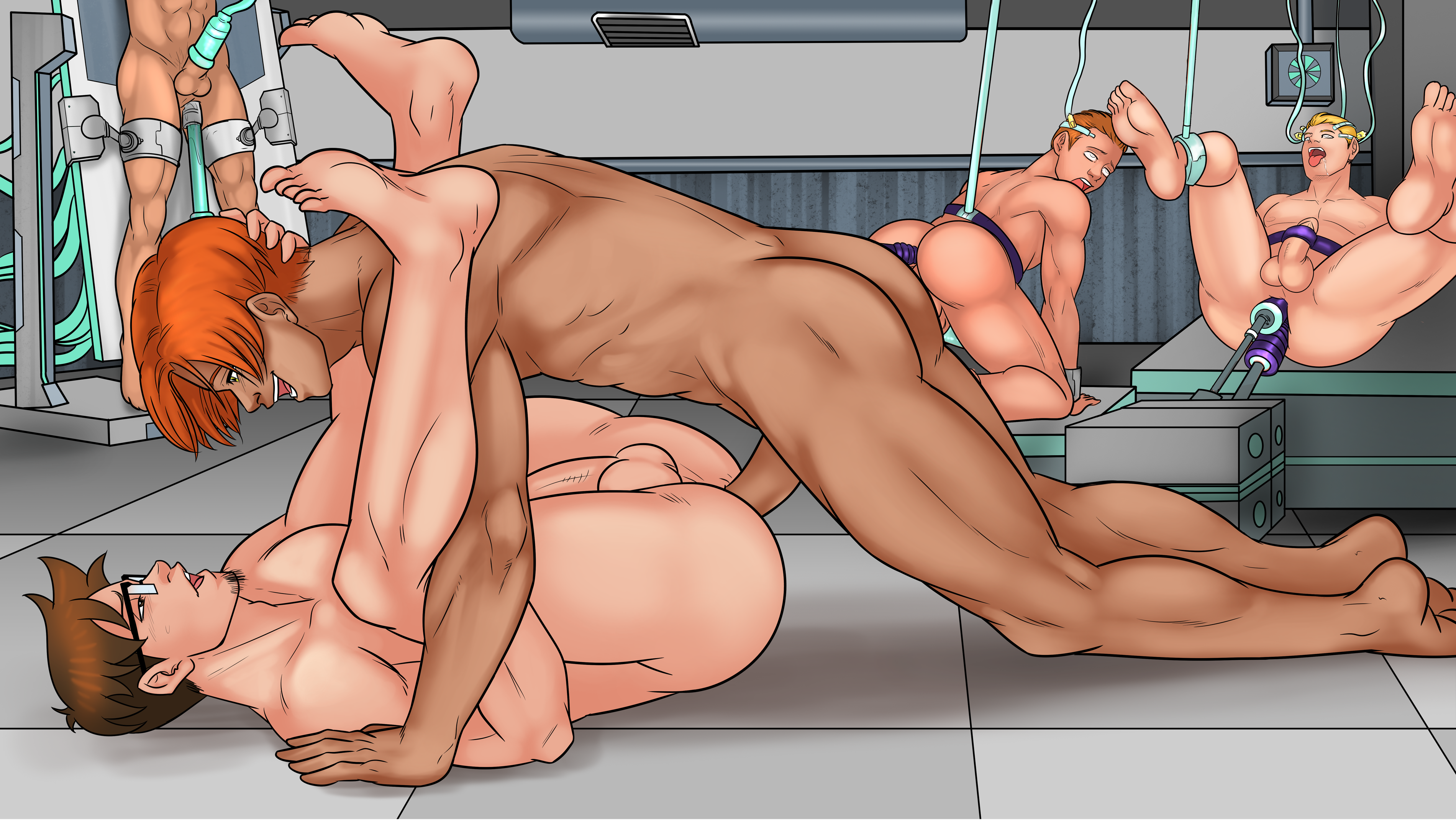 Along the way, you'll recruit many divine hunks into your Harem after saving them from their horrible masters. Shower your men with love and gifts and they will reward you with sexy surprises. You can even try you hand at Pachinko, where you can tempt exclusive guys into joining your ranks.
You'll never grow bored either as the game's calendar is always brimming with events, giving you the opportunity to expand your assortment of pecs, booties and cocks even further. And don't fret if you missed any events thus far, they always make a comeback!
And what's the point of having such a heavenly crowd of men if you can't show them off to the world? Your character Profile lets you display your favourite guys in a variety of stunning sceneries for others to admire – you can even customize your own character here using various costume options!

But theres more to the game than that… So much more…
As you progress through the game, you'll also be able to strengthen your character through purchasing upgrades and donning powerful equipment. You can then show off your might by challenging fellow players in battles of sexual prowess at the Arena and Leagues for a chance to earn extravagant rewards!
And once you think you're skilled enough, you can try to impress the Champions – line up your best team and try to dazzle some of the Haremverse's most skilled fuckers. Though this is far from an easy feat, receiving their coveted exclusive rewards wil definitely prove worthwhile.
Thats not even half the fun… Players are able to compete with one another in the daily Contests and the weekly Tower of Fame for loads and loads of awesome prizes and the best part – you compete by doing simple in-game tasks like battling the villains and levelling your team!
Its not always about rivalry though. After all, games are more fun when played together and the game's Clubs feature allows just that. You're able to form or join a group of likeminded players and share strategies, tips, acheivements and so much more. Not only that but you'd be able to work together to develop your club, earning you sweet boosts for your game.
With ample sex to leave you drained and no shortage of things to do between your intense sessions, there really isn't a reason not to pay these lovely, mischievious hunks a visit. So next time you have a free minute, swing on by. Don't worry, gorgeous, they don't bite too hard.