B.D.S.M: Awakening 
Unlock the true potential of your Harem 
It is time to unravel another part of the grand B.D.S.M feature: the Awakening. B.D.S.M. is like a Pokemon: it keeps upgrading and getting better and it's yet to get to its final form. 
What is Awakening?
Until recently your girls could only be leveled up to the point where they match your hero's current level. This cap is now removed and girls are getting their own way of leveling up: by being Awakened. 
In order for the girl to Awaken to higher levels, she will need a special new currency: Gems
Every 50 levels you will be able to level up a girl using special Gems which correspond to the Element of every girl!
 To make the PvP more inclusive, we have increased the level cap from 500 to level 750 for all girls. The max player level remains 500.
This will also help lower level players compete more fairly and improve their opportunities against higher level competitors with bigger and stronger Harems.
Where do I find the Gems?
Gems will drop from Villains, Daily Missions, Seasons, Legendary Contests, Contests, Places of Power, Seasons, League battles, and Path of Attraction.

This update also means that you will be able to win more Books, including Mythical ones, from Seasons and for players above level 200+ we have increased the drop chance of higher rarity Books.
Thanks to conversations with players and community feedback, we have also rebalanced how Gems are obtained:
Each win in Seasons will provide 1 Physical Gem

Each win in the Leagues will reward 1 Voyeur Gem

Playing Epic and Mythic Pachinko will reward all Gem types

Side Quests final reward will provide different Gem types

Temporary PoP will provide all Gem types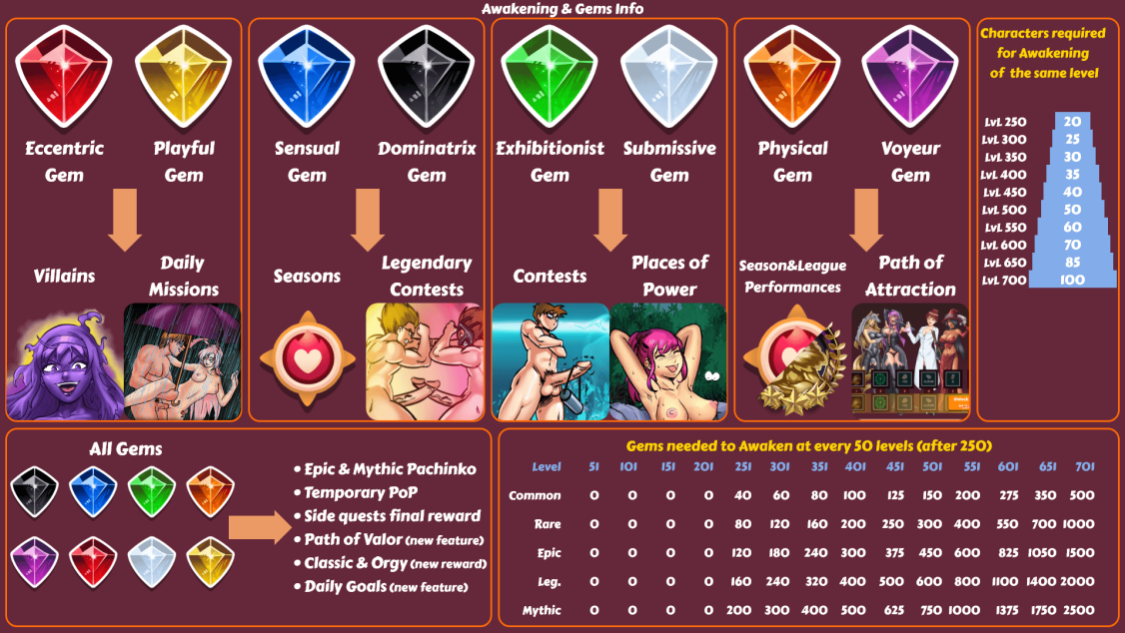 The gems are an addition to most of the current rewards that are obtained from the features.
The Books have also been rebalanced:
Mythic Books will keep their price but will provide x2 times more XP than before  (20k / 40k / 60k) 

From now on players of all levels will receive higher rarity books from the Market 

Temporary Places of Power will now drop Legendary Books 

Daily rewards: Epic items will be replaced by Legendary books 
Levelling of Girls
The current level of your girls will not be changed by the update.
Based on detailed feedback from you, our playerbase, we are introducing a few changes on how this new feature will work.
 Girl Leveling
Girl Awakening until level 250 will cost 0 Gems

All Awakening costs in Gems are reduced

Common & Rare -20% 

Epic -40%

Legendary -55%

Mythic -60%

The characters required in order to awaken are increased (on average with 40%)
There are some additional requirements for leveling up girls once they have reached a certain milestone. 

Awakening after level 250: 20 girls need to have reached level 250

Awakening after level 300: 25 girls need to have reached level 300

Awakening after level 350: 30 girls need to have reached level 350

Awakening after level 400: 35 girls need to have reached level 400

Awakening after level 450: 40 girls need to have reached level 450

Awakening after level 500: 50 girls need to have reached level 500

Awakening after level 550: 60 girls need to have reached level 550

Awakening after level 600: 70 girls need to have reached level 600

Awakening after level 650: 85 girls need to have reached level 650

Awakening after level 700: 100 girls need to have reached level 700
Thanks for reading all of this. Here comes the best part: 
Free Bundles 
Yes, we are celebrating this update of the B.D.S.M. with presents! With the release of Awakening we are giving away x2 free bundles. The bundles will contain 3 000 of all Gem types and Mythic books. That's the equivalent of 1 month of gameplay!

Hurry up and try the Awakening right now, because the bundles are available only for the next 4 days.
Bundles may not appear automatically, please re-login to make them appear 
📢 New update Alert! 📢
We're continuously working on improving the game for you, be it mechanics, new features, or the interface. No change is too big or too small!
🐇 As Bunny once told me –  ain't always about the size of the boat, sometimes it's about the motion of the ocean (if you catch my drift). 🌊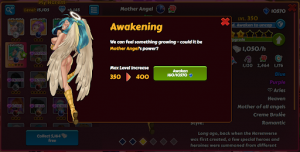 The Awakening interface needed to be freshened up to make sure you can keep your eyes on the prize and see the sexy recruits you're awakening! 💎
From now on, you'll be able to see the recruit in their most recent unlocked pose. This way, you can see how your recruit looks in their last unlocked pose before awakening them 🔥

From the Harem or the Market! 💝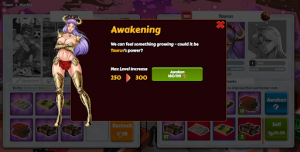 ***************************************************
We have planned more awesome surprises for you before the year ends. Stay tuned: more cool things are happening in the Haremverse!
Thanks again to the players who have been testing Awakening on the test server and helped us create a final version that's better than what we initially planned!