The Haremverse has always been and will remain free for everyone who seeks adventure and loves horny Haremettes. But to give your gameplay an extra boost and enhance your assets, we have a few ways for you to get your
bundles, offers
, Season pass, and monthly cards.
We are always looking for ways to make the user experience good for you and facilitate everything extra to the gameplay so you don't lose your… focus. We have been updating our payment options and trying to provide you with a lot of opportunities to find whatever fits best your preferences. 
We've recently improved our payment systems so even people who had issues with their credit cards can now use them successfully. We also have different payment options depending on the location and preferences of the players.
Now let's look into each of the payment options in more detail.
Credit/Debit Cards
This is the easiest and the most preferred way to buy something in the games. Depending on your location, you can use any of the major credit cards for in-game purchases. 
Visa, Visa Electron, Mastercard, Maestro, JCB, Diners Club, American Express, Discover, Electron
They all work with the system we have implemented: cascading payment. If a credit/debit card payment fails, this system automatically sends another request to another bank until the request has been approved.

Note: it might require you to fill in a new security code for the new attempt. This is perfectly normal and safe. Unless you cancel the transaction, the cascading system will keep trying to make the payment until all of the bank options are exhausted. 
Recently we've added a new bank to our list of partners: Credorax. This means that if you've had issues using your credit/debit card before, you can try again now.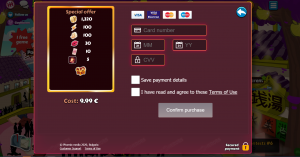 We are using Payment System Providers (PSP): a third party that facilitates payments and is partnering with banks. We've been working with SecurionPay since 2016 and Directa24 for South American markets. 
There are also payment gateways available for some European countries (mostly France). 
New Payment Method has been included
Segpay platform will allow players to use Paypal.
How to use it?

Go to the Payment window and click on Pay with Segpay
You will be redirected to fill in your data. The PayPal option will be selected by default.
After the payment is complete, click on the redirect link to go back to the game

Note: PayPal is not available for all locations. If you don't see Segpay as an option, it means it's not available for your country.
Important: This payment option is available only for single product/package payments of Kobans. No subscriptions are available at this moment.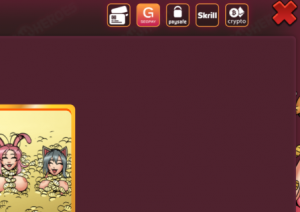 Vouchers
For people in certain European countries (for now), there is an option to get a voucher in a shop that can be used for online in-game payments.
Paysafecard is a simple and safe option to make payments online without using a bank or card information. It is available in euro and in dollars (exclusively for the United States and Canada).
Bank Transfer
For certain geographical locations, we accept bank transfer payments. We are partnering with Sofort for that. It is available in a few European countries, including Germany, Belgium, Austria, Netherlands, Italy, Denmark, Hungary, Czech Republic, Great Britain, Sweden, Slovakia, Poland, Estonia, and others. 
Direct Carrier Billing
Direct Carrier Billing (DCB) is a mobile payment method that bills purchases from third-party vendors of digital products directly on the telecom operator's invoice. In clear, it means you're buying Kobans today, in 1 or 2 clicks, and you'll see the payment on the monthly invoice of your mobile operator. For now, this is available only in France.
You have questions? Don't hesitate to reach us with the in-game support system.