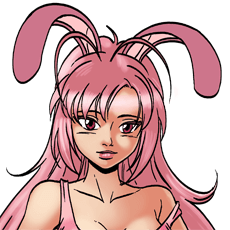 Bunny says: "Oh, you're up? You slept in! There were over a dozen girls here, all ready to jump on your majestic cock and milk it dry, but you missed them! They got so horny they ended up pleasuring each other for hours and hours and left to continue the orgy elsewhere." 
Haven't you turned on push notifications? They are the fastest way to get into the pants of new arrivals! When you have a battalion of horny girls wet and ready, do you really want to keep them waiting?
What are push notifications?
Simply put – they are alert style notifications sent via your desktop & Android mobile browser to inform you that an event is starting. You get the notification immediately when the events start, even when you're not currently on www.hentaiheroes.com. You'll be able to receive your web push notifications on your desktop or mobile screen anytime that you have your browser open. Push notifications are one of the best ways to stay up-to-date with the latest & naughtiest in the Haremverse.
Easy to set-up, they give you the opportunity to get started as early as possible on new events and get the maximum out of each and every one.
Quick guide on how to set up push notification
If you are logging in for the first time: 
Navigate to

www.hentaiheroes.com
      2. You will see this window:
      3. Click ok
Chrome:
You will see this window:
      2. Click allow
Firefox:
You will see this window:
      2. Click allow Notifications
If you disabled them by mistake:
Chrome
Click on the padlock next to www.hentaiheroes.com
      2. Click on Site settings
      3. Select the drop-down menu next to notifications
      4. Click Allow
Firefox
Click on the padlock next to

www.hentaiheroes.com
      2. Click on Clear Cookies and Site Data
      3. Reload Firefox and follow the process as if logging or the first time