Since early this year, the biggest project that our team worked on was the different improvements of the PVP and combat features in the game. Yet as the main focus of the game is the Harem and the girls, we do not want that they feel lonely. This is why we desire to present you some incoming changes that will arrive soon in the Haremverse and that focuses on the Harem and how you can upgrade your girls.
Harem Version 2
First of all, the most obvious change is the interface of the Harem itself. As we provided with some mechanical changes to the feature, it was making sense for us to change the interface too. The haremverse is a fun world filled with sexy, diverse girls with different personalities. It keeps uncovering its secrets becoming more and more complex. So it was natural for us to want to grow out of the grey faded panels, into something that would fit our girls better, as well as adapt to all the incoming features.
With this in mind, we worked together into making an interface that would be fresh and more appealing. We brought sexier colors into it and structured it to be clearer and easier for everyone to use while also being discrete. We worked on filling it with life, to fit our beloved universe's mood. As we continue to develop the game, this new interface will be integrated more and more.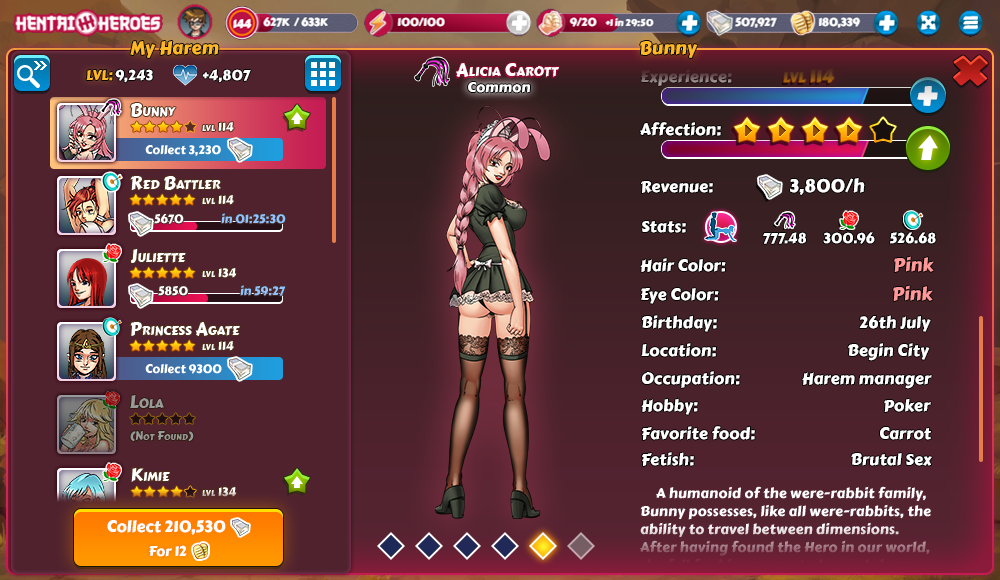 A common request that we heard about the harem is the ability to reorganize with different logics and also to be able to look for girls within it. As your Harem grows, it becomes complicated and less convenient to navigate, find a specific girl, or find more information about her. This is why we want to provide you with options to reorganize the girls, by grades, by alphabetical order and by some others categories. Next to that, we will add a search tool with different filters giving you the power of preciseness
One of these optional filters we're talking about is actually an option giving you the chance to display also the girls that are currently not in your harem.. As your goal is to have the best and the biggest harem, we consider it is quite important to not only have access to the information about the girls that are members of your harem but also have information about the girls that will join you in the future, providing you with their names and the main way to recruit them.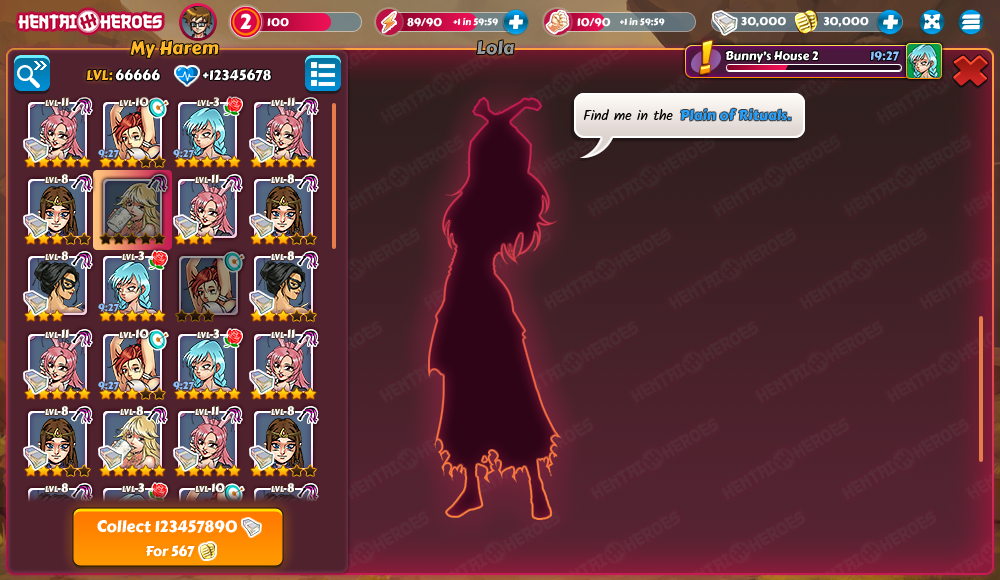 Yet without girls, no harem is possible, that is why we want to be sure that they receive the attention and the love that they deserve. To do so, you obviously need to know them better, to develop on your relationship with them. This is why we are proud to tell you that the girls will have their own presentation page, displaying personal information about each one of them, making sure that you can discover all the naughty secrets that they want to share with you. As you show more and more of your affection to them, you will learn more and more about their life, their work and even their favorite food, and you might get to know priceless fetish information.
Girl's rarity
In the Haremverse, as you probably already know, there are girls harder to seduce than others. It is a fact that some girls appear in the game for a while at different places, and they are rarer than others, it is just natural that girls have a rarity.
Following on that, we are introducing girl's rarity as a mechanic in the game. There are some very simple rules that will help you understand how it works:
There will be 4 rarities: Common, Rare, Epic and Legendary
Girls that are harder to acquire and fewer players have them are the higher rarity
Higher rarity girls will have higher starting stats, will require more XP to level-up and will cost more affection or money to upgrade compared the lower rarity girls
There is no rule about which rarity of girls have 3 or 5 grades

We are also taking this opportunity of changing the prices depending on the rarity, to reduce the amount of affection and money required for upgrading. We want to improve the situation of expensive girls for the players, that have lots of them due to the current way of defining the price. We don't want you to feel punished for having lots of girl by increasing the price for you, but instead each girl having a fixed price according to her rarity.
Players that have 75 girls in their harem will have prices cheaper on average by 10%
Players that have 100 girls in their harem will have prices cheaper on average by 33%
As each rarity will have their own prices regarding affections and upgrades, you will see a vast array of changes regarding the prices, most of them going down noticeably and some increasing a bit compared to their current prices and their affection's requirements.
You can consult the rarity repartition for each girl in the game in the following lists :
Legendary Girls
Christmas Arcana
Valentine Kelina
Spring Lola
Easter Bunny
Festival Queen Titania
Nika
Beach Samane
Travel Juliette
Larp Geekette
Vechta
Anita
Alexandra
Winter Edna
Loving Virginia
Cora
Levitya
Super Naisha
Sabine
Epic Girls
Skytte
Sporty Noemy
Kimie Halloween
The housemaid Halloween
Hikea
Christmas Sung Tai Ki
Christmas Ankyo
Valentine Jennie
Valentine Miss Spook
Deitra
Virginia
Bunny's mother
Easter Fairy
Festival Regine
Unionist Elizabeth
Gwenaelle
Juin Lelierre
Summer Geekette
Camping Leeditt
Travel Gwenaelle
Travel Regine
Niki Vignae
Judie Books/Livret
Shao
Notka
Sailor Celsius
Treasure
Vashalanor
Liu-Yeng
Alicia
Murakawa
Lupa
Gossy
Vissihar
Gaelle
Bodybuilder Elizabeth
Lieutenant Kayle
Bernadette Barda
Emperor Tsubame
Asta
Bass
Winter Sophie
Viola
Loving Justine
Loving Pelagie
Kyoto
Windia
Tachibana
Victoria
Barell
Sifra
Superwoman
Lady Meta
Arianne
Cop Nika
Agathe Ninja
Noella
Plavala
Mynx
Rare Girls
Juliette Halloween
Santa Claudia
Christmas Agathe
Christmas Bunny
Cupid-Chan
Valentine Abraël
Valentine Red Battler
Spring Shehera
Spring Rumiko
Spring Spirit
Rabbi
Hari
Ishtar
Festival Bonny
Festival Solveig
Festival Geekette
Boku mi Maï
Metal Noemy
Music Sylvia
Beach Eugénie
Mountain Sophie
Summer Red Battler
Travel Kalissa
Flight attendant
Travel Arcana
Justine
Secretary Rabbi
Teacher Deitra
Maika
Gork
Mala
Clarisse
Sportive Jeanne
Cheryl
Fae Marjoa
Commander Cattleman
Shadow Astis
Robin
Snowboard Hari
Ski Bunny's Mother
Loving Arcana
Loving Bunny
Loving Lupa
Mary
Nicole
Pooky
Captain Haremverse
Iron Viola
Hidlr
Pilot Ankyo
Nuladva
Lemia
Mavin
Common Girls
Princess Agate
Jennie
Solveig
Rumiko
Sung Tai Ki
Princess Noemy
The housemaid
Regine
Miss Spook
Jeanne
Abraël
Eugénie
Bonny
Samane
Pelagie
Lola
Kelina
Sylvia
Fairy
Leedlitt
Queen Titania
Kalissa
Marina
Cunegonde
Stephanie
Lenaelle
Zoe
Edna
Salem
Shina
Venam
Noomye
Starter Girls
Bunny
Juliette
Red Battler
Ankyo
Sheheramazond
Kimie
Arcana
Thank you for reading !
Your kinkoid team
PS: we kindly remind you that all images and numbers are a work in progress consequently, some minor changes might be implemented in the game