If you were a superhero, what would your superpower be?
You don't need to take a quiz, get bitten by a spider, or be part of an experiment to find out. All you have to do is follow the mysterious superheroine Bunny Girl…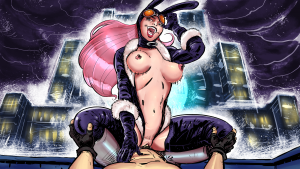 We've been working hard for the past few months to bring you this epic lewd adventure! Comix Harem is a comics-inspired multiplayer online porn game where you'll enjoy a real RPG with tons of uncensored adult content for free. 
New arousing adventures and new gorgeous girls are waiting for you, hero! Explore this fresh universe of video-game and comics girls, recruit them to your Harem, and fight evil in epic battles! Comix Harem is our brand-new game, accessible for free on both desktop and mobile devices here www.comixharem.com 
The Story
We are leaving the Haremverse, hero, and about to enter a brand new planet with amazing superheroes, horny superheroines, and potent villains. Here people with powers are part of a special organization that protects the world. Your superpower will be coming in… handy when the hot and horny superheroines need an extra boost. You know, to get that extra Bang! when they fight the bad guys!
With great dick comes… a Harem of horny super chicks! 
The Harem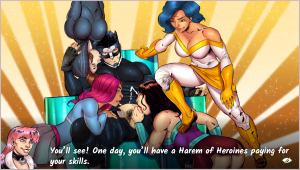 The SuperHeroines crave you because you buff their powers and give them extra energy. They all want to be part of your Harem so that they have access to your magical tool 24/7. How can you say no to them?
Because you help them regain their superpowers, the horny girls will pay you for your time. The superheroines have different rarities and hence, they will reward you with different amounts. Bring them more pleasure, train with them and shower them with gifts and they will repay you!
The Game Play
Every world in the Comixverse comes with several quests full of mystery, suspense, and a lot of fucking.  If you are already familiar with Hentai/Harem Heroes, you will know what it's all about (and you can skip the next few paragraphs). 

Penetrate this world of endless sexploits and adventure in the Begin City. Don't skip the tutorial- consider it the foreplay to the satisfying and lewd (inter)course that's coming.
In each world, you can find a supervillain who is keeping girls away from you. It's your duty to save them and offer them a safe place in your harem. You will win them over by engaging the villain in a sexual performance: the one who is better at satisfying his harem wins. Just a tip: Better equipment gives better chances, although the drop rate is random. But whenever you win, you will get awesome rewards!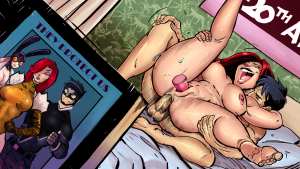 Just like in real life, quests require energy. Once you empty your bar, you can recharge with the special in-game hard currency Gold. Or if you prefer you can just wait for the recharge. Quests take energy, but you get experience in return! The XP you collect in your adventures will allow you to level up. Each world ends with the juiciest reward: a horny girl for your Harem!
You can also go shopping to make your superhero even more super! Choose among the various equipment items from the Shop: each one of them has a certain effect on your stats. In order to be stronger in battles, you will have to choose a class and buy equipment and boosters to make your performances against the villains and other players the best possible. And don't forget to shop for your lady friends! Books give your girls experience points and Gifts help them level up, which means more Yemen for you.


PvP
You get to perform against other heroes and their harems in the Seasons feature. Every month there will be a theme and a special girl that you can win after performing with other powerful heroes. Pick a team of your strongest and most flexible sex heroines and enjoy the sex-off. When you win, you will get Mojo, XP, and Affection for you girls.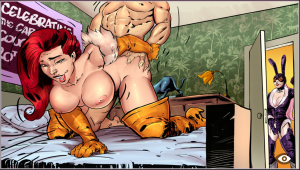 And wanna see your place in the Harem hierarchy? Just click on the Leaderboard in the Seasons! 
The other performances are against the villains! Beat the villains and get various items, money, XP, and most importantly – girls!!!
Gacha
The Night-club is the Gacha feature: you have three different gacha games you can play. You have Great, Epic, and Mythic Night-clubs which have different rewards and different girls. Success is guaranteed: you will always receive amazing rewards: from equipment to girls. The drop rate is random. 
The Daily Rewards
For every day that you log in this horny world, you will get a special Daily Reward. And every month you will have special intriguing and stimulating events that will bring you out-of-this-world gorgeous babes and rewards.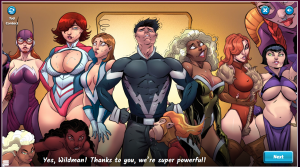 Now put on your cape, take off your pants and come put the Super in the horny SuperHeroines on www.comixharem.com!