Hero Level 1000 and Leveling Rewards 💝

Aaaah, hero! So strong, so powerful and so… maxed out at level 500! 👀
Well, guess what we've been cooking up for you to reach unprecedented levels of sexual power:
Player Level Cap 1 000!
Not only can you now unlock more levels to help you on your journey, but you'll also be unlocking rewards to celebrate your leveling milestones! 🥳🎉
Example of Leveling Path: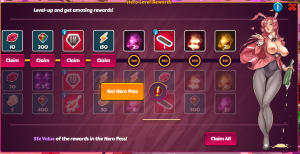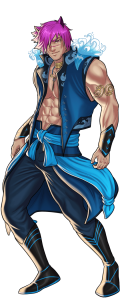 Now, every 20 levels, you'll get free rewards to celebrate your leveling up and progress!
How can I access the leveling reward paths? 💦
The rewards can be accessed by clicking the XP bar next to the player avatar.
There is no expiry date on the levels or rewards in the Hero level rewards.
You can unlock and claim them at any time.
For those of you who want even more rewards and to celebrate some more, we're releasing the "Hero Pass".

An icon is displayed on your Hero XP when rewards are available!
 XP leveling after level 500 🔥
Reached level 500?
The journey changes from here! Player XP level requirements will no longer be as exponential as they were to reach level 500.
Example:
To reach level 500, players need 270,538XP (total: 27,388,485).
To reach level 501, players need 270,982XP (total: 27,659,467).
To reach level 502, players need 271,428XP (total: 27,930,895).
To reach level 503, players need 271,874XP (total: 28,202,769).
To reach level 504, players need 272,321XP (total: 28,475,090).
To reach level 505, players need 272,768XP total: 28,747,858).

What is the Hero Pass and where can I find it? 🤩
Unlocking the Hero Pass will allow players to receive the rewards from the second part of the leveling reward path.
The Hero pass can be purchased from the "Passes" Section in the shop.
Note: The "Season Pass" tab will now be renamed to Passes, see image below: 👇
The Hero Pass will be available from level 20 (which is also when players will unlock their first leveling reward).
👇 Example of both Leveling Paths unlocked through Hero Pass: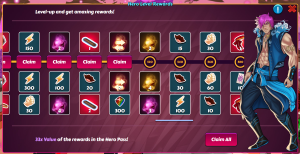 🍑 Player stat points
Players will now also get a new opportunity to raise their stat levels: Every level gives the opportunity to buy 30 stat points for each stat.
Equipment stats points and price 🍆
The price, equipment stats, and sell value will remain unchanged and calculated for level 500 if the player has reached level 500 or higher.
🔥 It's time to double down and level up!! 🔥
Check it out, level up and unlock some rewards, and come share your feedback with us! Our teams look forward to hearing your feedback, reading your thoughts and opinions, and improving your experience with our games! 
Join us on Discord or our Forum to share your thoughts, reactions, and feedback!
Every bit matters and can impact the future development of your kinky gaming!