Healers!
The sensual Desire Feast in honour of the Goddess Ishtar is approaching and you know what that means…It's time for a lavish celebration that will bring divine joy and even more sexual pleasure to the Haremverse!
The Goddess of Fertility will give you 10 whole days – from the 26th of March to the 5th of April (6 pm UTC+1) to feed her insatiable desire! And this year she has chosen the spiciest and seductive chef to host the most sensual feast! 
Indeed, Keira is not just a pretty face and a hot body in the culinary industry! This girl is able to create delicious dishes, fuse different cuisines and think outside the box. She doesn't simply prepare food, she pushes herself to the limit when cooking! That's because what makes her happy and satisfied is the joy of seeing how her exquisite dishes bring happiness to others.
The competitive Keira is pursuing the first place in her industry, so you'll likely find her in the kitchen, working hard and mastering her craft. But don't think that you will remain indifferent. Just watching this sensual chef cooking can make you hard and salivating!!
And when it comes to setting the mood, her sexy aphrodisiac recipes are a great start. That's why Keira published her cookbook where everyone can learn how to make a delicious dinner on a date night for a really sexy time. Yes, this skilful girl brings happiness by feeding bodies, opening up senses and stimulating sex drive!
Now, her greatest ambition is to fuel the unquenchable desire of the Goddess so that it will burn throughout this year. And she needs your help to accomplish this challenging task. No, you don't need to have culinary skills! What Keira needs is to provide her with your nut juice for her exquisite dishes!
So, what do you need to do to invite Keira to your Harem and supply her with the most important ingredient for her festive recipes?
First, you will be able to play the Ishtar Feast Event if you have done a good job in the Office and your current stage there is over 1250!
Also, the event will consist of a few stages which will give you the following rewards:
And stage 2660 will reward you with the gorgeous and skilful Keira!
Also, don't forget to click on the Event banner which will give you access to the event:


In order to reach every reward stage faster, you should level up the girls in the Event Office. Also, you can use the event Forge where you can receive Mojo and Affection. The Crafts and the Shop will help you to advance much quicker!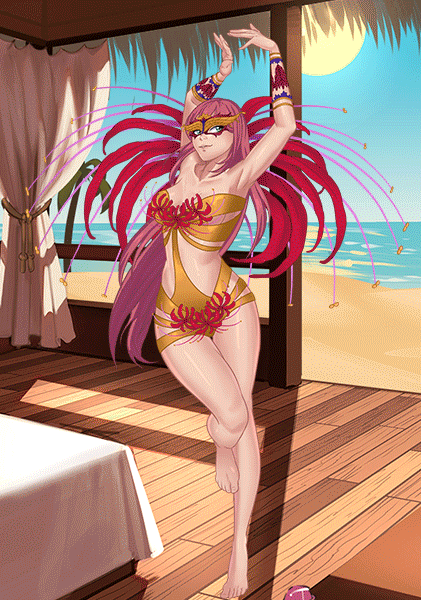 Go! Set the Ishtar's love on fire and let it burn!