What are Events?
Participating in events can provide all sorts of rewards such as Orbs, Experience, Kobans, Gear, Recruits, etc. If you are wondering how events work and what are the different types of events, this article is just for you!
What are the different Event types?
Classic event
At the beginning of each month, classic events are the longest events in the game. 
Each classic event has a different theme and adds 8 new recruits to the Haremverse. Daily missions are marked with a different color (blue) and tell the story behind the Event in the Haremverse. There are 9 daily missions and completing all of them will reward you with an exclusive event recruit.
Legendary days 
A villain has captured a legendary quality recruit that needs to be rescued. Recruits from Legendary days are very powerful and have a 5-star affection grade. The event duration is 4 days.
Epic days
Epic days features 6 epic quality recruits, two of which are new to the Haremverse.
Orgy days
The event with the biggest amount of recruits available! In this grand event you can get your hands on recruits you may have missed in previous events. Two newly introduced recruits, one of which can be obtained from the villains. The duration of the event is 5 days and completing all daily missions will award you with a recruit. 
Anniversary event
Each year a different celebration, during our studio's anniversary, we create a special event on which we give various rewards and prizes.
Path of Attraction and Legendary Contests
Our latest newest types of events are Path of Attraction and Legendary contests.  

Legendary Contests

Legendary contests are a new kind of event which lasts 4 days. Every 24 hours, a new Contest appears. During these contests, you will have to achieve goals related to PvP, XP, Pachinko, Donations, Villains, Energy…
Click here to learn more about Legendary Contests.
Path of Attraction
During the Path of Attraction, there are no event Daily Missions. From Path of Attraction, you'll have to complete a certain amount of objectives in the right order to obtain various rewards and recruits.
Click here to learn more about Path Of Attraction.
Mythic Days
The Mythic Days are a new type of event. The Mythic days are running for 48 hours during the classic events at the beginning of each month. During this event, players have two days to go on a specific troll and to get as many shards as possible for the Mythic girl. 
Click here to learn more about the Mythic Days.
How can I participate in events?
You can participate in events by clicking the event widget and battling villains.
Also to complete daily missions from you must click on "Missions" in Activities section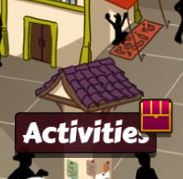 Get the rewards before the end of the events otherwise, you'll lose them.
Please also note that some of the event duration and rewards are subject to change. The article will be updated to reflect these changes.