What are Events?
Participating in events can provide all sorts of rewards such as Orbs, Experience, Kobans, Gear, Recruits, etc. If you are wondering how events work and what are the different types of events, this article is just for you!
What are the different Event types?
Classic event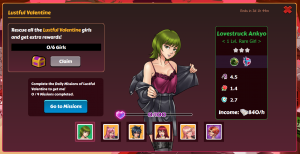 Classic events take place at the beginning of each month, classic events are the longest events in the game. New recruits appear during this 9-day long event!
Each classic event has a different theme and adds 6 new recruits to the Haremverse.

Some of them can be obtained from the Epic or Event Pachinko and others can also be obtained by fighting a villain. One of them is only obtainable by completing all of the Event Daily Missions

Event Daily Missions are marked with a different color (

blue

) and tell the story behind the Event in the Haremverse. There are 9 daily missions and completing all of them will reward you with an exclusive event recruit.

If you manage to rescue all of the event recruits, you will then unlock a special reward chest containing 100 of every gem type!
Mythic Days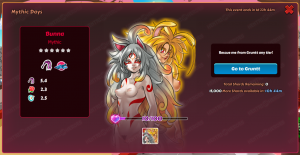 Mythic days happen over 72 hours during the classic events at the beginning of each month. Mythic recruits are the most powerful of the entire Haremverse. They have 6 grades (7 poses) and are 10 to 12% stronger than Legendary girls.
These recruits are super exclusive and are only obtainable through two events: Mythic Events and Mythic revival Events.

During this event, players have three days to go on a specifically designated troll and to get as many shards as possible for the Mythic recruit.

However, there is a limited number of shards to win. New stocks of shards are regularly added to the game during the event. If no shards are currently available, you will have to wait until the next restock to get a chance at winning some.

So, before rushing off to fight the villain make sure to check out the Mythic Days page to check if there are still shards available.

Click here to learn more about the Mythic Days.
Legendary days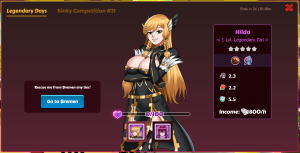 A villain has captured a legendary recruit that needs to be rescued. Recruits from Legendary days are very powerful and have a 5-star affection grade. The event lasts 4 days.
During the event, you will have to battle specifically chosen villains for a chance of attraction shards to drop.
One new girl will be available on one villain and a reappearing legendary girl will be available on another villain. These girls cannot be obtained from the Epic Pachinko.
Epic days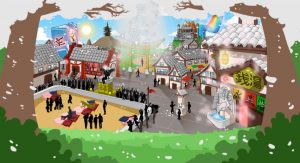 Epic days features 6 epic quality recruits, two of which are new to the Haremverse. The event lasts 4 days and girls are available both from villains and from the Epic Pachinko.
Orgy days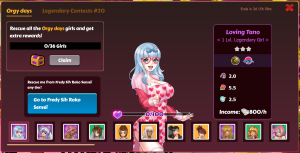 The event with the biggest amount of recruits available! In this grand event you can get your hands on recruits you may have missed in previous events. Orgy Days lasts 5 days.
The event introduces two new recruits to the Haremverse, one of which can be obtained from the villains.

Completing all Daily Event Missions marked with a different color (blue) will award you with a recruit.
If you manage to rescue all of the event recruits, you will then unlock a special reward chest containing 100 of every gem type!
Click here to learn more about Orgy days.
Legendary Contests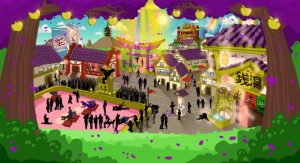 Legendary contests are a kind of event which lasts 4 days. Every 24 hours, a new Contest appears which means that you will have 4 opportunities to win shards for the recruit.
During these contests, you are no longer fighting other players for kobans from the 4 top spots in the Contests, you are now fighting to earn shards for the Legendary recruit.

You will have to achieve goals related to PvP, XP, Pachinko, Donations, Villains, Energy…

Players who have successfully won the Legendary girl before the end of the event will be separated into different brackets in order to continue enjoying the event and win more rewards.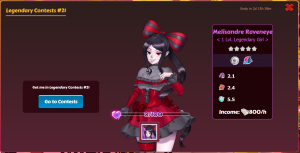 Path of Attraction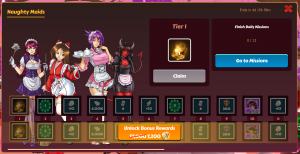 Path of Attraction is a 6-day long event. During the Path of Attraction, there are no Daily event Missions. From Path of Attraction, you'll have to complete a certain amount of objectives in the right order to obtain various rewards and recruits.
Note: All rewards need to be claimed before the end of the event or they will be lost.
Kinky Cumpetition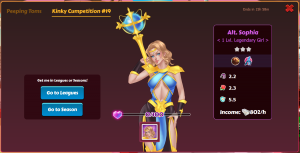 This event lasts 2 days and is accessible once you have reached level 20.
One recruit is available during this event. Their shards can be earned from winning performances in either Leagues or Seasons.
Mythic Revival Event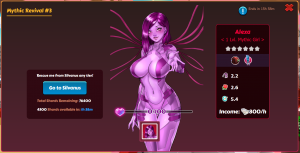 This event functions in the same way as the Mythical Days but lasts 2 days. Players can earn shards for a previously released Mythical recruit.
Cumback Contests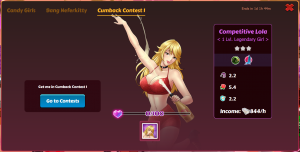 Cumback contests are a new type of contest that will revive recruits from the previous Path of Attraction and Seasons.
Players who have missed an opportunity from past PoA and Seasons will have a chance to obtain them!
The objectives of the Cumback contest are different from the usual contests: Challenge Club Champion, Do Pantheon Performances, Defeat villains, and other objectives will contribute to your goal of obtaining the recruit
Similar to Legendary Contests, Cumback Contests will provide different rewards depending on your placement and whether you already have the recruit!
Boss Bang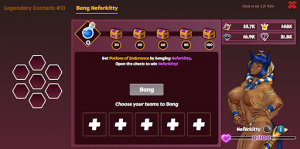 Boss Bang is a new event type in the Haremverse with a different type of mechanic. It will allow you to win more awesome rewards and exclusive Boss Babes over 4 days every month!
To participate, you will need to prepare 5 different teams and perform against a Boss.
The Boss will join your Harem once you've defeated them 100 times!
Click here to learn more about Boss Bang.
Anniversary event
Each year a different celebration, during our studio's anniversary, we create a special event on which we give various rewards and prizes.
How can I participate in events?
You can participate in events by clicking the event widget and battling villains.
Also to complete daily missions from you must click on "Missions" in Activities section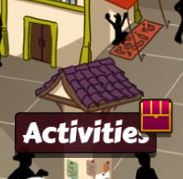 Get the rewards before the end of the events otherwise, you'll lose them.
New Event type

Seasonal Events!


To celebrate our 6th Anniversary we are adding a new type of event!
What are Seasonal events?

Seasonal events are a new event type that will be working in synergy with several other ingame features.
These events will be recurring less often than regular events
(On occasions such as New Year, Valentine's Day, Anniversary and others)
Tons of rewards!
With special events comes special rewards

You will have to complete a path by collecting a specific type of token called a Crystal 
By completing this path you will receive rewards (the main reward being exclusive seasonal girls). 
How do I collect rewards?
You have to progress through a path of rewards by collecting a special seasonal currency called Crystals

How are the Crystals collected?
Crystals are collected by going through regular ingame features such as  PvP, PvE, activities, but also bundles and special event cards
What are event cards?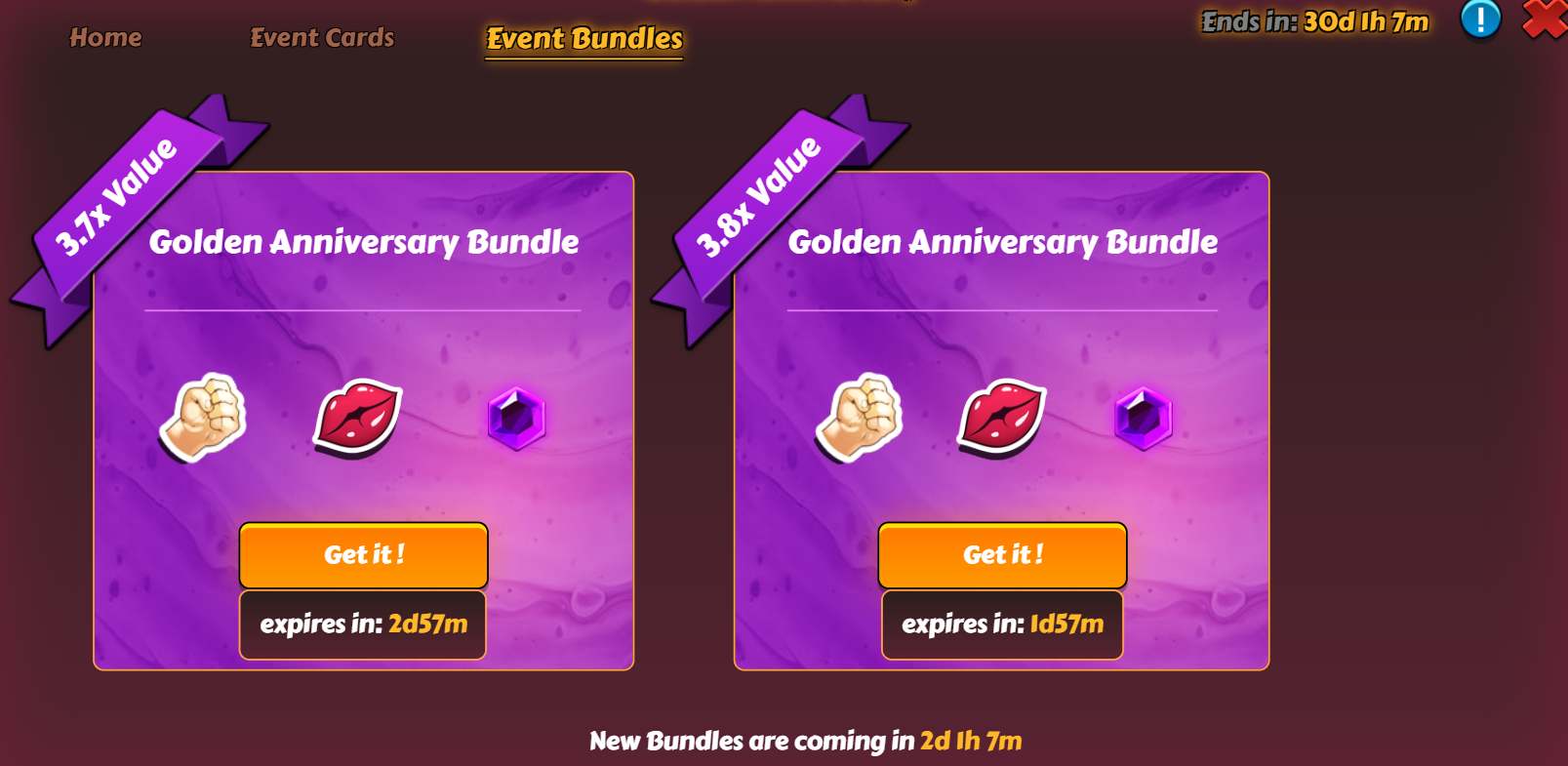 Event cards and packs will be working like the regular monthly cards but for the duration of the event only but with an added value to them. 
The cards will be purchasable in Kobans except for the Premium card.
Sultry Mysteries Event (SM)
A new Event type is now available!

In Sultry Mysteries, win rewards by unlocking squares from a grid and collect Sultry Coins to buy awesome rewards and shards for unfinished girls.

How can the event be accessed?
To access the event, players must have reached Level 15
If under 15, the event won't be visible at all.
How does it work?
Every grid has 30 squares. You can generate a new grid, but you must open at least 15 squares first.

Every square hides a mystery reward. Use 1 key to unlock the reward hiding behind the square.
The number of grids that can be generated is unlimited.
How can I get keys?
You'll start the event with 15 keys.
Win them by collecting the rewards from the final Daily Chest or battle villains for a chance to win keys.

Keys can also be obtained with Kobans or via Bundles.
Keys will be reset at the end of the event so make sure to use them all before the SM event ends!
What are Sultry Coins and how do I use them?
Sultry Coins can only be won by unlocking mystery boxes from the event grid.

You can then use them in the exclusive event Shop to unlock awesome rewards like missing shards for uncompleted recruits!
Note that the Sultry Coins will be kept after the event ends and can be used the next time the event is available.
How does the Exclusive Shop function?
Spend Sultry Coins on rewards or resources like Gems. You can also spend Sultry Coins on purchasing shards for recruits that you haven't yet completed!
There will be 5 rewards for you to purchase in the shop.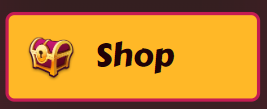 The first slot of the shop is reserved for the shards of a random recruit for which you already have 40 shards or more (does not include Mythics).
The Shop will be refreshed every 12h or can be manually restocked with Kobans.
For more information, check out the information button on the event page!

Please also note that some of the event duration and rewards are subject to change. The article will be updated to reflect these changes.