Yes, we are doing it again! The gorgeous models are cosplaying your favorite manga characters again!
Heroes! The first time was so good, we just had to do it again and this time it will be longer, smoother, and even more satisfying.  
Welcome to the lewd Advanced Hentai Action Party. You have five days (until the 19th of May) to come, enjoy the party and get amazing rewards: an exclusive girl for your Hentai Heroes Harem, in-game goodies, and a bonus of $50 worth of cam credit.
What do you need to do?
Get to the party from the Town and enjoy interacting will all the beautiful and horny cosplaying models. 
How do I get the rewards?
To get the exclusive Luxurious Body in your Harem, you need to follow the PROMO BANNER in Hentai Heroes and register for free. Miss Body will take her time to cum: allow at least 15 minutes for the act. And then she will be all yours.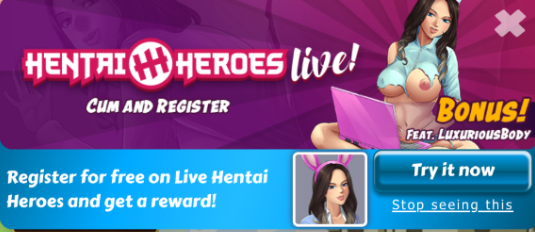 If you registered last time at the Hentai Look-Alike Party on Live Hentai Heroes, you can use another email.
To get the in-game rewards, you need to find the secret redeem codes, hidden in the models' pages on the Live Hentai Heroes site. Use them in the game and enjoy the rewards.

Hint: look for familiar hashtags. 😉 You can also check regularly our Twitter and Instagram accounts for hints and codes.
To see your favorite cam girl as a character that you can win in the Haremverse, vote! The three most popular girls will become part of the Haremverse!
For any purchase you make on Live Hentai Heroes, you will get FREE credits worth up to $50.
Join the Advanced Hentai Action Party to enjoy the busty & thick gorgeous models cosplaying your favorite Hentai Heroes lewd ladies!
Hentairly yours,
The Kinkoid Team